TOEFL: Your gateway to American College admission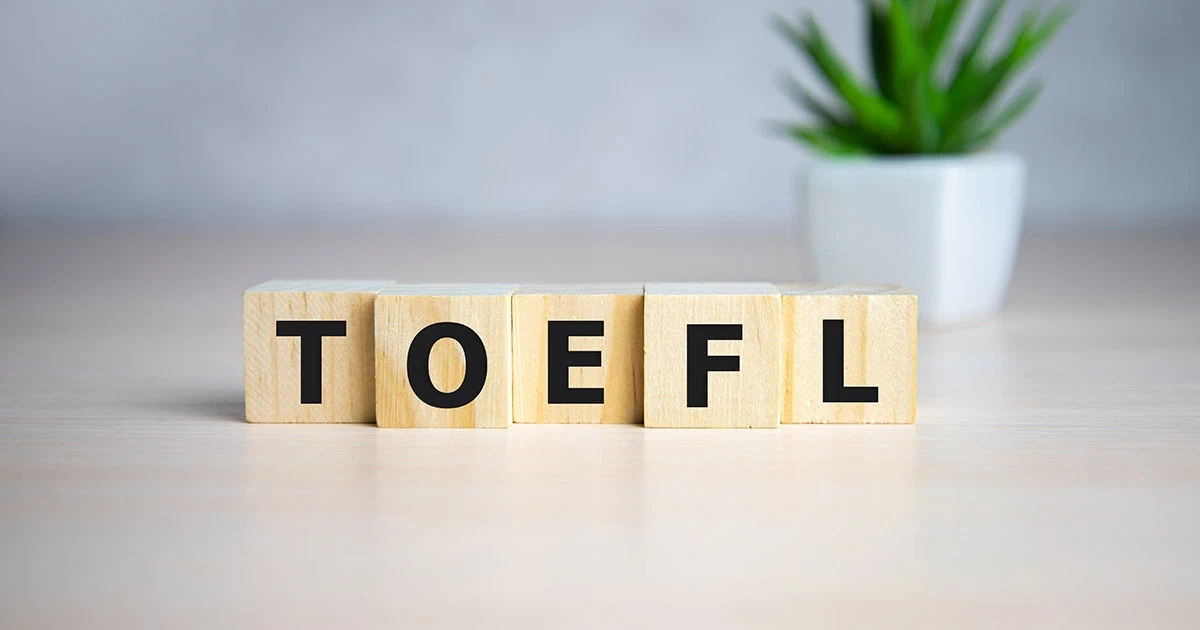 Before anyone dives headfirst into their aspirations of attending an American college, there's a crucial initial step to conquer: qualifying for it. Specifically, demonstrating your proficiency in the English language is paramount. After all, the last thing anyone wants is to traverse halfway around the globe, investing significant resources in relocating and pursuing studies abroad, only to discover that adapting to academic and living environments is hindered by language barriers.
For those contemplating studying abroad, it's wise to consider undertaking the TOEFL, an English proficiency test. In this blog, we will delve into what exactly TOEFL entails, the components of the test, its scoring system, and provide guidance on preparing effectively for this crucial assessment.
Let's dive in!
What TOEFL stands for?
We all know it's a test for English, but what is TOEFL meaning? Well, it stands for Test of English as a Foreign Language.
What is TOEFL?
As the name suggests, TOEFL is a standardised test designed to assess the English language proficiency of individuals who aren't native speakers and intend to enroll in English-speaking universities.
Think about it, if your college courses are going to be conducted in English, the last thing you'd want is to struggle with Google Translate to understand what everyone is saying or teaching.
This test is widely recognised and accepted by over 11,000 universities and various institutions across more than 190 countries and territories. The ultimate aim is to ensure that after preparing for the TOEFL test, you'll have a strong grasp of English skills like reading, listening, speaking, and writing.
This way, you'll be well-prepared to thrive in a classroom environment and demonstrate to potential universities that you possess a solid command of the English language.
How many universities accept TOEFL in USA?
The majority of universities that utilise the TOEFL iBT test acknowledge scores equally for both the test centre-based version and the Home Edition.
It's worth noting that not all universities explicitly mention the TOEFL iBT Home Edition on their websites, even if they do accept it. This might be because they already have the TOEFL iBT test listed. If you have any doubts about their policy, it's advisable to directly inquire with them.
As of March 9, 2023, a preliminary check reveals that approximately 428 universities in the United States accept the TOEFL Home Edition. It's important to keep in mind that this figure is further divided by institutions and the specific type of programs you intend to enroll in, such as master's or undergraduate programs.
How long is the TOEFL test?
Let's shift our attention from the preparation aspect and focus on the actual test duration. The test itself typically lasts around two hours. You should also allocate an additional 30 minutes for check-in, getting situated, and getting accustomed to the exam surroundings.
So, all in all, if you are wondering how many hours is TOEFL exam, you're looking at a total of approximately two and a half hours.
Considering that there are four sections to be tested, the following table provides a breakdown of the time allocated for each section in the TOEFL exam.
| | | | |
| --- | --- | --- | --- |
| TOEFL tested area | Time taken | Type of test questions | Description of TOEFL test questions |
| Reading | 35 minutes | 20 questions | Engage with passages and provide answers to questions based on them. |
| Listening | 36 minutes | 28 questions | Respond to inquiries regarding short lectures or discussions that take place in a classroom setting. |
| Speaking | 16 minutes | 4 tasks | Converse about a topic you're familiar with and engage in a discussion about the material you've both read and listened to. |
| Writing | 29 minutes | 2 tasks | Go through a written passage, listen to an audio recording, and then input your written response. |
How is TOEFL exam conducted? – TOEFL home test, TOEFL Paper edition, TOEFL at test centre
You have the flexibility to choose from three distinct methods of taking the TOEFL test, depending on your personal preference and the availability of options in your country.
Here's a summary:
Testing options

Best for

Availability

Requirements / Preparation

Dates

Test at a test centre.

Individuals who favour a conventional testing setting, complete with the classic pencil and paper.

Available worldwide at thousands of authorised TOEFL iBT test centres.

A printout of your order confirmation email — you'll need to record information from the email on your answer sheet.

#2 or HB pencils and erasers — mechanical pencils are not permitted.– Your ID.

Offered more than 60 times a year.

Test at home

Individuals who prefer to take a test from the comfort of their home.

Available worldwide.

Download the ETS secure browser.

Ensure your equipment like the camera, microphone, and speakers meet the environment requirements.

Available 24 hours a day, 4 days a week, with appointments available as early as 24 hours after you register.

The Paper Edition

People who need flexibility.

Available in Colombia, India, Mexico and the United States.

Reading, Listening, and Writing sections: on paper at a test centre.

Speaking section: at home on your computer within 3 days after the paper sections.

Offered one to two times a month. When you register, you'll make two appointments: one at your local test centre and the other at home.
How much is TOEFL exam?
Generally, TOEFL fees range from approximately $200 USD to $300 USD on average. Here's a visual representation showcasing the diversity of these fees in various countries. It's important to note that we've included just a selection of Asian countries here, and you can find a more comprehensive list on the official TOEFL website.
| | |
| --- | --- |
| Country | Test Fee (USD) |
| Philippines | $300 |
| Singapore | $270 |
| Japan | $245 |
| Australia | $273 |
| Hong Kong, China | $290 |
| Nepal | $195 |
If you find yourself registering late, needing to reschedule your test, or encountering any unforeseen circumstances – you know, those moments that seem to follow Murphy's Law – here's a rundown of potential fees you might have to pay for these emergency situations.
We have also included post-test scenarios like needing additional score reports.
Bottomline is – if you have the means to pay, you'll have a solution to your problems.
| | |
| --- | --- |
| Situation | Fees (USD) |
| Late registration | $40 |
| Rescheduling | $60 |
| Reinstatement of cancelled scores | $20 |
| Additional score reports (per institution or agency) | $20 each |
| Speaking or Writing Section score review | $80 |
| Speaking and Writing Section score review | $160 |
| Returned payment | $30 |
TOEFL India fees
Please be aware that TOEFL might have specific websites for different countries, providing relevant fee information accordingly. Let's take India as an example and delve into the detailed breakdown of all the applicable fees.
| | |
| --- | --- |
| TOEFL iBT test fees | India Price (INR) |
| Registration for TOEFL iBT | ₹ 16,900 |
| Late Registration | ₹ 3,900 |
| Test Rescheduling | ₹ 5,900 |
| Reinstatement of Cancelled Scores | ₹ 1,990 |
| Additional Score Reports | ₹ 1,950 |
| Speaking or Writing Section Score Review: | ₹ 7,900 |
| Payment Return | ₹ 2,900 |
How to book TOEFL exam?
How do you go about scheduling your TOEFL exam? Well, you're not expected to rely on chance or consult a lucky calendar to randomly choose a date (although you can still do that if you'd like). The primary factor to consider when selecting a test date is your admission deadlines. It's advisable to aim for a test date that's at least two to three months before your earliest admission deadline. This ensures that you'll receive your scores in time for university admission.
Depending on your chosen test date and the format of your test, your scores will become available within a range of 4 to 16 business days after the test. This means you could receive your scores as quickly as within a week or it might take up to a month.
So, effective planning is key.
And if you're wondering about the process of signing up for your TOEFL exam, here's a step-by-step guide:
Create an account on the TOEFL website.
Once your account is set up, it's time to choose your test date
Decide between a home-based or paper-based test.
Input your country, city, or postal code, along with a date range.
Select your preferred test date and location.
Complete the payment process.
Once these steps are done, all that's left is to focus on studying for the exam.
Can I cancel my TOEFL test?
Life happens. We get it.
If you find yourself unable to take the test, you have the option to reschedule or cancel your TOEFL registration. To do so, simply submit a request at least four days before the test date. However, it's crucial to be aware that if you make this request any later than that, you won't be eligible for a refund. Additionally, keep in mind that there is a cost associated with rescheduling the test.
Done with TOEFL test? Let's talk about scores…
While many individuals might assert that your scores don't solely shape your destiny, it's difficult to shake off that notion in a society driven by meritocracy. But fear not, this segment delves deeper than mere numbers.
We're here to provide you with a comprehensive overview of when your scores become accessible, help you grasp the concept of a commendable score, and shed light on the duration of validity for your TOEFL score.
When the TOEFL scores are available?
To kick things off, it's important to note that your score won't be instantly available. This implies that you'll need to bear with a bit more anticipation before you can access your score report. The key takeaway here is that the timing of when your score becomes available largely hinges on the format in which you took your test.
Taken at a test centre: 4–8 days after your test date
TOEFL iBT Home Edition: 4–8 days after your test date
TOEFL iBT Paper Edition: 11–13 business days after your test date
Ultimately, you can retrieve your score by logging into your ETS account.
What is a good TOEFL score?
Given that there are four sections, each section is scored within a range of 0 to 30. Consequently, the total score can reach up to 120 points.
Reading and listening
| | | | | |
| --- | --- | --- | --- | --- |
| Skill / Level | Below Low-Intermediate | Low-Intermediate | High-Intermediate | Advanced |
| Reading | 0 – 3 | 4 – 17 | 18 – 23 | 24 – 30 |
| Listening | 0 – 8 | 9 – 16 | 17 – 21 | 22 – 30 |
Speaking and writing
| | | | | | |
| --- | --- | --- | --- | --- | --- |
| Skill / Level | Below Basic | Basic | Low-Intermediate | High-Intermediate | Advanced |
| Speaking | 0 -9 | 10 – 15 | 16 – 19 | 20 – 24 | 25 – 30 |
| Writing | 0–6 | 7–12 | 13–16 | 17–23 | 24–30 |
It's important to recognise that this scoring range provides insight into your proficiency level and pinpoints areas that may require improvement.
So, what is a good TOEFL score out of 120?
In an ideal scenario, a total score indicative of an advanced level would typically fall around 95 out of 120 or even higher.
For a high intermediate level, a competitive score might be approximately 72 out of 120.
The most effective approach to determining a favourable TOEFL score is to be aware of the minimum English proficiency threshold required by the universities you're aiming to enrol in. This insight will help guide your target score.
How long is TOEFL score valid?
Finished your exams and are thrilled with your score? Well, here's the next burning question: How long does that shiny score of yours remain valid?
To put it simply, your scores retain their validity for a duration of 2 years. You can download the PDF score reports two days after your scores are available in your ETS account.
What if two years go by and you find yourself in need of the score for a fresh university application? Regrettably, once those two years have elapsed, you'll be required to retake the TOEFL test once more.
TOEFL preparation
Now that you've got your test dates lined up, you're well aware of what constitutes a good TOEFL score, and you've diligently practised and studied, what can you anticipate on the day of the test?
To begin, it primarily hinges on whether you'll be taking the test at a designated test centre or opting for a home-based test.
In either scenario, there are certain essentials you'll need. Firstly, make sure to have a valid ID. Your identification must precisely match the name you used during registration. If there's a discrepancy between your ID and your registered name, you won't be able to proceed with the test, and unfortunately, there won't be a refund. So, during registration, avoid using a nickname.
Don't forget to bring a couple of pencils and an eraser. Remember, mechanical pencils are not allowed. Additionally, print out your confirmation email and bring it along. The details in this email are vital for your answer sheet. This is the most reliable way to ensure that once your test is scored, the results will be sent to your email account.
Can I prepare for TOEFL at home?
As mentioned earlier, you indeed have the choice to take your TOEFL exam in the convenience of your home. Nevertheless, this process differs somewhat, demanding you to create an appropriate environment. Given that the test is conducted on a computer, this means your overall experience hinges on the reliability of your internet bandwidth and the calibre of your network connection.
Right before you start the test, there will be a final equipment check conducted by the proctor, who will be there to help resolve any issues (hopefully, there won't be any technical glitches).
It's a good idea to perform a thorough "full-dress rehearsal" and test all your equipment before your actual test dates to ensure that any potential hiccups are ironed out and Murphy's Law doesn't come into play.
Throughout the entire test, a proctor will actively observe you via your webcam and computer screen to ensure that you strictly adhere to all testing procedures.
In conclusion, if you're aiming for a comfortable testing environment without any technical complications, opting for the home-based test might be a suitable choice for you.
Before the test:
As your scheduled test time approaches, you'll need to click on the provided link to initiate your test. This link can be found either in the confirmation email you received upon registration or within your ETS account. It's important to remember that you have a 15-minute window after your designated start time to begin the check-in process; otherwise, your test will be cancelled, and no refund will be provided.
Here's a breakdown of the steps you can expect before the test:
Click on the link from your confirmation email to "Start Session."
The proctor will ask for access to your computer screen and instruct you to:

Show your computer screen using a handheld mirror or cell phone.
Adjust your camera to provide a 360-degree view of the room, including your tabletop and the surrounding space, as well as any areas the proctor may wish to examine.

You will need to display your identification to the test proctor. The name on your ID must match the name used during test registration.
In case of trouble, here's what you should do:
If you need to get in touch with the proctor during the test, you can either speak to get their attention or click the chat icon located at the lower right corner of your screen to open the chat box. It's worth noting that the proctor's response might take 30–60 seconds.
If the proctor attempts to initiate a chat with you, the chat box will appear on your screen.
TOEFL practice test – free version
ETS offers a range of free practice tests to facilitate your preparation and ensure you're well-equipped to tackle the TOEFL test:
TOEFL Paper Edition: This resource encompasses audio files, transcripts, and a format mirroring the paper-based delivery used during the test.
TOEFL Practice Sets: This option allows you to target specific sections for focused practice.
TOEFL iBT® Free Practice Test: This entails a genuine, comprehensive two-hour test covering all four sections, including questions from past year exams.
Have a bit of cash to burn? Try TOEFL® Practice Online
Given that it's a paid option, you gain access to some enhanced features. This includes the opportunity to engage with genuine test questions from previous exams and receive an authentic score. Furthermore, within a 24-hour span, you'll receive insights into both your strengths and areas that require improvement.
Prices for this service range from $25 USD to $149.99 USD for a complete preparation package. Ideally, it's advisable to initiate your preparation with the free test, which helps you pinpoint your weaknesses. Subsequently, you can invest money in honing those specific areas.
However, if you're inclined towards a more comprehensive approach, you have that option, although it's worth noting that it can incur a substantial cost.
Is TOEFL or IELTS easier?
The fundamental objective of English proficiency tests is to ensure your ability to navigate in an English-speaking environment.
TOEFL is not the sole English Proficiency Test available; there are other alternatives like IELTS, TOEIC, and more.
In general, numerous universities require either TOEFL or IELTS as evidence of English language proficiency.
However, beyond these options, the questions many people commonly ponder are:
which is easier – TOEFL or IELTS?
is TOEFL hard?
While we all aspire to have a strong command of English, it's important to remember that investing time and money in an English test isn't quite like conquering Mount Everest for that sense of accomplishment.
If you're curious about which English proficiency test might be easier between TOEFL and IELTS, you might discover IELTS to be more manageable, largely due to its approachable reading section.
You don't need to take both tests simultaneously just to prove a point. The key factor is to understand the specific countries or universities you're targeting. For instance, while many places accepting TOEFL scores also welcome IELTS, British universities generally favour IELTS.
Before you go…
Before you embark on your thrilling journey, keep this in mind: excelling in this test opens up a treasure trove of opportunities for studying abroad or beginning a new chapter in another country.
However, as you gear up and prepare to embark on this adventure, there's also a practical aspect to consider – the process of transferring your funds overseas. And guess what? Instarem is here to simplify that aspect for you!
They're your reliable partner, ensuring that your money swiftly travels from here to your destination!
Download the app or sign up on the web and see how easy it is to send money with Instarem.
*Disclaimer: This article is intended for informational purposes only. All details are accurate at the time of publishing. Instarem has no affiliation or relationship with products or vendors mentioned.