Everything you need to know about unified payment interface (UPI)
The rise of UPI-based payments in India has been nothing short of meteoric.
With cheap internet data, high smartphone penetration, and India's biometric identity card, it's not surprising that many Indians have quickly adopted digital payments.
And with the impact of the pandemic, digital payments have only become more popular, with people forced to stay home and many businesses moving online.
UPI, in particular, has seen a huge increase in adoption, with millions of people using the system to send and receive money. In this article, we will explain everything you need to know about UPI:
What is UPI?
UPI full form is quite simple: it stands for "Unified Payment Interface."
It is a system that allows for the easy and instant transfer of money between two bank accounts.
UPI is unique in that it allows for payments to be made directly from one bank account to another, without the need for a third-party platform like PayPal or Venmo.
How did it come about?
UPI is created by the National Payments Corporation of India (NPCI) and was launched in 2016 by Dr. Raghuram G Rajan, Governor, RBI at Mumbai. This system started off with 21 member banks.
Since then, UPI has become one of the most popular methods of online payment in India.
As of September 2022, UPI transactions in volume totalled over 6.7 billion, with a total of 358 participating Indian banks including:
Yes bank
Axis bank
Kotak Mahindra bank
Canara bank
South Indian bank
Bank of Baroda
How does UPI work?
In the past, to transfer money from one account to another, you needed to know the bank account number, the branch address, the bank's name and the IFSC code of the beneficiary. This can be a lot of information to remember and provide each time you want to make a transfer.
One of the key aspects of UPI is your UPI ID.
So what is a UPI ID? Well, a UPI ID acts as your virtual payment address (VPA). It is a unique identifier that is linked to your bank account.
You can think of it as your email address, but for payments. Just like how you need an email address to send or receive emails, you need a UPI ID to send or receive money via UPI.
To make a UPI payment, all you need is the UPI ID of the person you are sending money to.
You can create a UPI ID using any UPI-enabled app, such as:
Google Pay (Gpay)
Bharat Interface for Money (BHIM)
PhonePe
Paytm
State Bank of India (SBI)
and more…
Once you have your UPI ID, you can start making money transfers via QR codes.
When you scan a UPI QR code reader it will read the UPI ID and the amount payable.
The UPI QR code is generated by the UPI system and is unique for each UPI ID. The UPI QR code can be printed or displayed on a screen.
When making a payment, the UPI QR code should be scanned by the payer's UPI-enabled device, which will then prompt the payer to enter their UPI PIN.
Once the UPI PIN has been entered, the payment will be processed, and the funds will be transferred to the recipient's account.
UPI QR code is a safe and secure way to make payments as it eliminates the need to share personal details such as bank account numbers or credit card numbers with the recipient.
Is UPI safe?
One of the main concerns people have with UPI is whether it is safe to use. The answer is yes! UPI is a very safe and secure way to send money.
When you create a UPI ID, you will be asked to set up a UPI PIN. This UPI PIN is similar to an ATM PIN or debit card PIN. It is a unique, personal code that you will use to authorise UPI payments.
You will need to enter your UPI PIN each time you make a UPI payment. This ensures that only you can authorise payments from your account.
In addition, UPI uses multiple layers of security, including:
Two-factor authentication
SSL encryption
UPI PIN
These security measures make UPI one of the safest ways to send money online.
Struggling with UPI?
If you are wondering how to change a UPI pin or how to go about generating a UPI or even struggling to register, you can always check out the step-by-step guides by the National Payments Corporation of India (NPCI).
Benefits of UPI
It's fast: UPI payments are instant.
It's convenient: you can make UPI payments 24/hours a day, seven days a week.
It's safe and secure: UPI uses multiple layers of security to protect your money.
It's easy to use: all you need is the UPI ID of the person you are sending money to.
There are no transaction fees: you can send or receive any amount of money without paying any transaction fees.
How is UPI used in everyday life?
For some, paying with cash can be an anxiety-inducing experience. Will I have enough money? What if I don't have the right change? What if the person in front of me takes forever to count out their coins?
Fortunately, UPI has made paying with cash a thing of the past.
Here are some everyday situations where UPI can be used:
Paying bills (electricity, water, gas, etc.)
Sending money to friends and family
Making online purchases
Paying for taxis/auto-rickshaws (Uber, Ola, etc.)
And much more!
And for businesses, UPI can be used for:
Salary payments
Vendor payments
And other business-to-business (B2B) payments
What is the UPI transaction limit?
One of the greatest things about UPI is that there is no limit to the amount of money you can send or receive.
However, there is a limit to the value of a single UPI transaction.
The UPI transaction limit is currently set at Rs. 100,000 (approximately $1350).
Indian banks that support UPI-based payments for foreign inward remittances
Here is a list of 95 Indian banks that support UPI payments for money sent from other countries.
ABHYUDAYA CO-OP. BANK LTD
AIRTEL PAYMENTS BANK
ALLAHABAD BANK
ANDHRA BANK
ANDHRA PRADESH GRAMEENA VIKAS BANK
ANDHRA PRAGATHI GRAMEENA BANK
APNA SAHAKARI BANK LTD.
AXIS BANK LTD
BANDHAN BANK
BANK OF BARODA
BANK OF INDIA
BANK OF MAHARASHTRA
BARODA GUJARAT GRAMIN BANK
BARODA RAJASTHAN KSHETRIYA GRAMIN BANK
BARODA UP GRAMIN BANK
BASSEIN CATHOLIC CO-OPERATIVE BANK
BHARAT CO-OPERATIVE BANK (MUMBAI) LTD.
CANARA BANK
CENTRAL BANK OF INDIA
CHAITANYA GODAVARI GRAMEENA BANK
CHATISGARH R G BANK
CITY UNION BANK
CORPORATION BANK
COSMOS BANK
CSB BANK LTD
DBS BANK INDIA LIMITED
DCB BANK LTD
DENA BANK
DEUTSCHE BANK
DHANLAXMI BANK LTD
EQUITAS BANK
FEDERAL BANK
FINCARE SMALL FINANCE BANK LTD
FINO PAYMENTS BANK
GP PARSIK BANK
GS MAHANAGAR COOP BANK
HSBC
ICICI BANK
ICICI BANK POCKETS
IDBI BANK LIMITED
IDFC FIRST BANK
INDIA POST PAYMENT BANK
INDIAN BANK
INDIAN OVERSEAS BANK
INDUSIND BANK
JAMMU AND KASHMIR BANK
JANA SMALL FINANCE BANK LTD
JANAKALYAN SAHAKARI BANK LTD
JANATA SAHAKARI BANK LTD. PUNE
JHARKHAND RAJYA GRAMIN BANK
KARNATAKA BANK
KARNATAKA VIKAS GRAMEENA BANK
KARUR VYSYA BANK
KERALA GRAMIN BANK
KOTAK MAHINDRA BANK
LAKSHMI VILAS BANK
MAHARASHTRA GRAMIN BANK
NSDL PAYMENTS BANK
ORIENTAL BANK OF COMMERCE
PAYTM PAYMENTS BANK
PRAGATHI KRISHNA GRAMIN BANK
PUNJAB AND SIND BANK
PUNJAB GRAMIN BANK
PUNJAB NATIONAL BANK
PURVANCHAL BANK
RAJASTHAN MARUDHARA GRAMIN BANK
RAJKOT NAGRIK SAHAKARI BANK LTD.
RBL
SARASWAT BANK
SARVA HARYANA GRAMIN BANK
SARVA UP GRAMIN BANK
SAURASHTRA GRAMIN BANK
SOUTH INDIAN BANK
STANDARD CHARTERED
STATE BANK OF INDIA
SURAT PEOPLE COOPERATIVE BANK
SVC CO-OPERATIVE BANK LTD
TAMILNAD MERCANTILE BANK
TELANGANA GRAMEENA BANK
THANE BHARAT SAHAKARI BANK LTD
THE AHMEDABAD DISTRICT COOP BANK LTD
THE BARODA CENTRAL CO-OP BANK LTD.
THE GUJARAT STATE COOPERATIVE BANK
THE KALUPUR COMMERCIAL CO-OPERATIVE BANK LTD
THE KALYAN JANATA SAHAKARI BANK LTD.
THE MEHSANA URBAN CO-OPERATIVE BANK LTD.
THE VARACHHA CO-OP BANK LTD
TJSB SAHAKARI BANK LTD
UCO BANK
UJJIVAN SMALL FINANCE BANK
UNION BANK OF INDIA
UNITED BANK OF INDIA
UTTARAKHAND GRAMIN BANK
VIJAYA BANK
YES BANK LTD
How to send money to India via UPI with Instarem?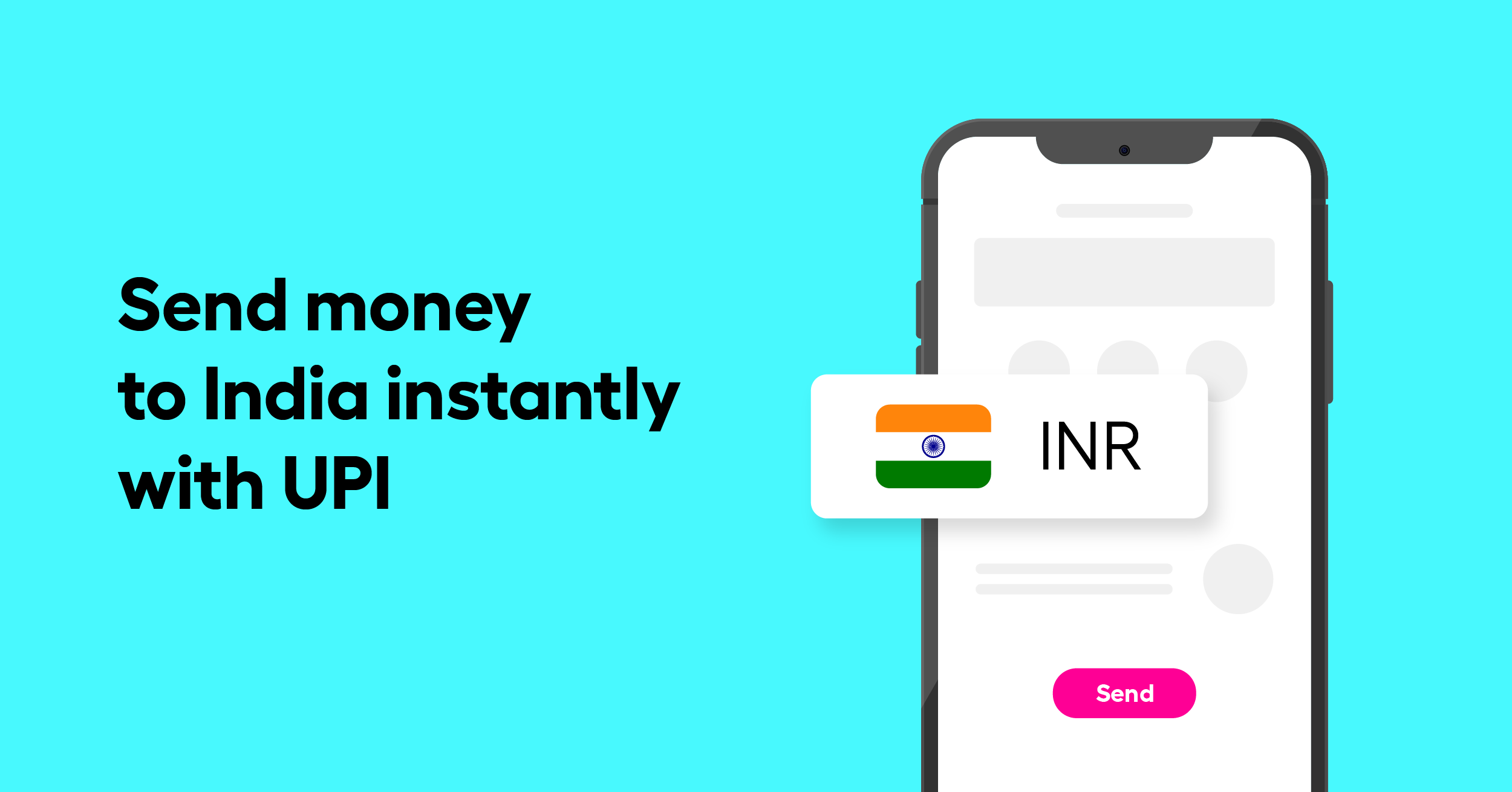 Instarem now supports UPI payments! This means that you can use UPI to send money to India* through the Instarem app or web platform.
Here are the steps:
Click on send
Input the amount, method of funding, and currency of choice.
Select add recipient or edit recipient's receiving option
Fill in the following details

Recipient receiving country
Currency
Recipient receiving option – select UPI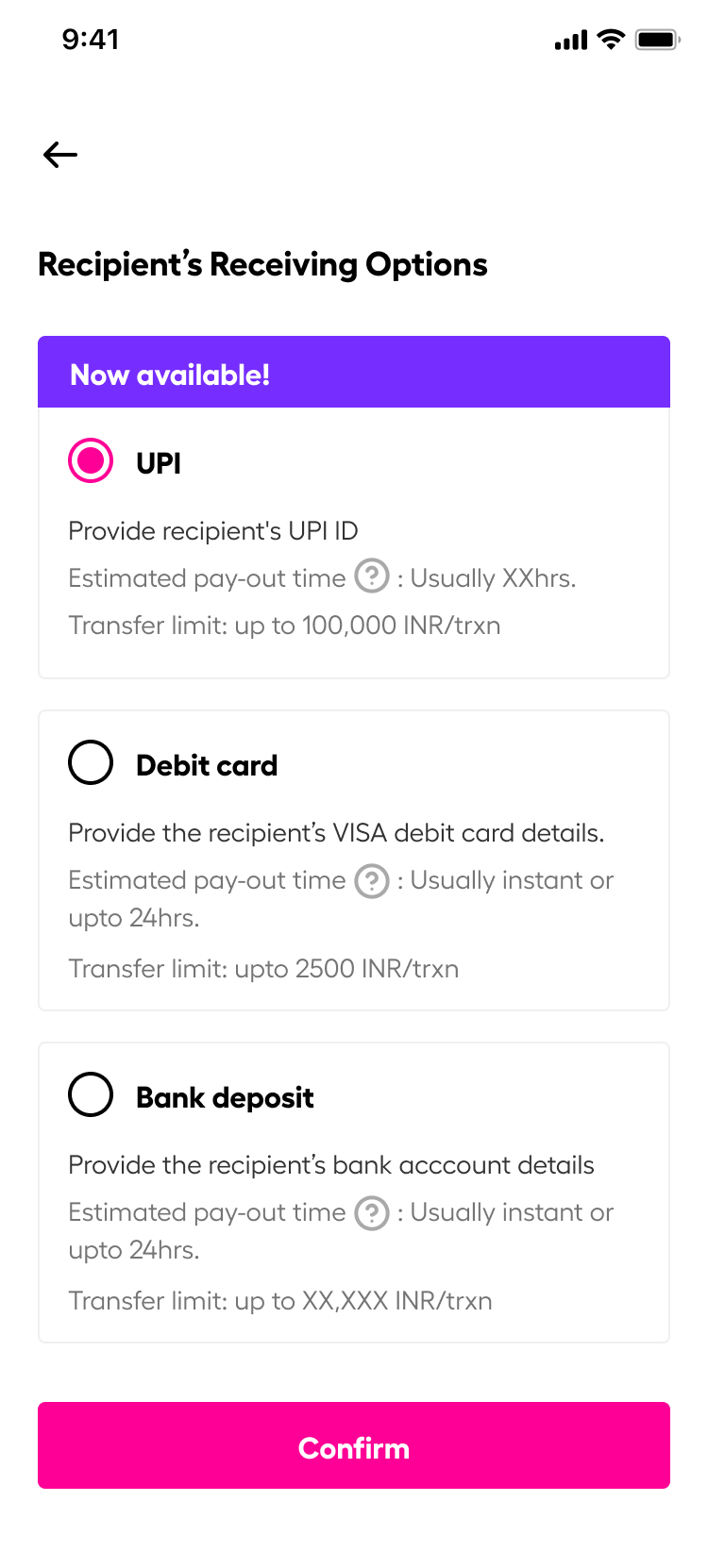 At the bottom, you will need to input the recipient's UPI ID
Click on next to review your transaction summary and authorise the transfer.
Key in your verification code that is sent to your phone number or email.
That's it! The app will then notify you once your payment is successful.
Ready to send money to India?
*Disclaimer: All images shown are for illustrative purposes.