CNH VS CNY: What you need to know about sending money to China
China has two currencies that are both in use – CNH and CNY. Both of these currencies are regulated by the People's Bank of China, however, there are some key differences between them that you should be aware of before sending money to China.
In this article, we will cover the basics of each currency, as well as how it impacts businesses and the strict regulations that apply when remitting money. We will also end with a guide on paying your vendors and salaries overseas.
What is China's currency?
China's currency is a mystery to many people outside of the country. What is it called? How do you spell it? And what is the symbol? The answer to all these questions is Renminbi. To save you the trouble of googling it, that's "人民币" in Mandarin. Pronounced something like "ren-min-bee" literally translates to "people's money".
So now you know what China's currency is called, but what about the symbol? Its symbol representation is ¥.
China's currency code is made up of three letters – CNY. This stands for China Yuan, and one yuan (dollar) equals 10 jiao (dime) or 100 fen (cents). And sometimes the Renminbi and China Yuan are used interchangeably. If you are confused, just remember yuan is a unit of Renminbi.
It gets even more complicated when you realize that there are actually two different yuans. So if you're planning on doing any business with China, make sure you know which yuan they're talking about!
What is CNY?
CNY is what you use within mainland China.
What is CNH?
CNH is used for trading outside of mainland China.
The origins of one country, two currencies
The People's Bank of China (PBOC) is the main bank in charge of managing China's monetary policy. This includes regulating the money supply and setting interest rates.
In July 2009, the Chinese authorities lifted restrictions on the use of the Renminbi for trade settlements between China and Hong Kong. This move has allowed businesses to settle transactions in RMB outside of Mainland China for the first time.
This led to the development of RMB markets in Hong Kong and other places (offshore RMB markets). The offshore Renminbi is known as CNH.
The two currencies are kept separate so that the domestic currency (CNY) is not affected by what happens in the international forex market.
The offshore market also helps to make sure that the currency is stable for investments and other purposes. Any form of currency trade can be done through a bank in Hong Kong.
China's strict money transfer policy
China is worried that a lot of money coming into the country could cause problems, like inflation. When too much money comes into a country, the currency can go up in value. This makes the country's exports more expensive and can cause inflation.
To stop this from happening, China has strict rules about how much money you can take out of the country. These rules are called capital controls.
Here's where the State Administration of Foreign Exchange (SAFE) comes in. SAFE sits under PBOC and SAFE's main responsibilities are to draft out policies and regulations, inspect and supervise foreign exchange transactions.
This means that SAFE can introduce measures to relax or tighten regulatory controls over foreign exchange income and payment in respect of current account transactions (e.g. import/export of goods and services) and capital account cross-border transactions (e.g. equity investment and debt financing).
What does this mean for businesses?
If you want to make a payment in foreign currency, you will need to follow SAFE's rules. The rules require Chinese banks to double-check certain documents with various government authorities.
This means that Chinese companies that receive money from overseas, must submit some documents to their bank. This proves that the money is for a legal purpose. The bank may take a little longer to process the money, so make sure you plan ahead.
Making cross-border transactions to China just got a whole lot easier with Instarem
Looking to do business in China? With Instarem, you can now pay your Chinese suppliers/vendors, make an intra-company transfer, and tax payments in their local currency at competitive rates.
The Instarem all-in-one platform allows you to consolidate all of your global payment operations for absolute convenience that also saves you time and money.
Here's how you can set up business payments to China using the Instarem platform: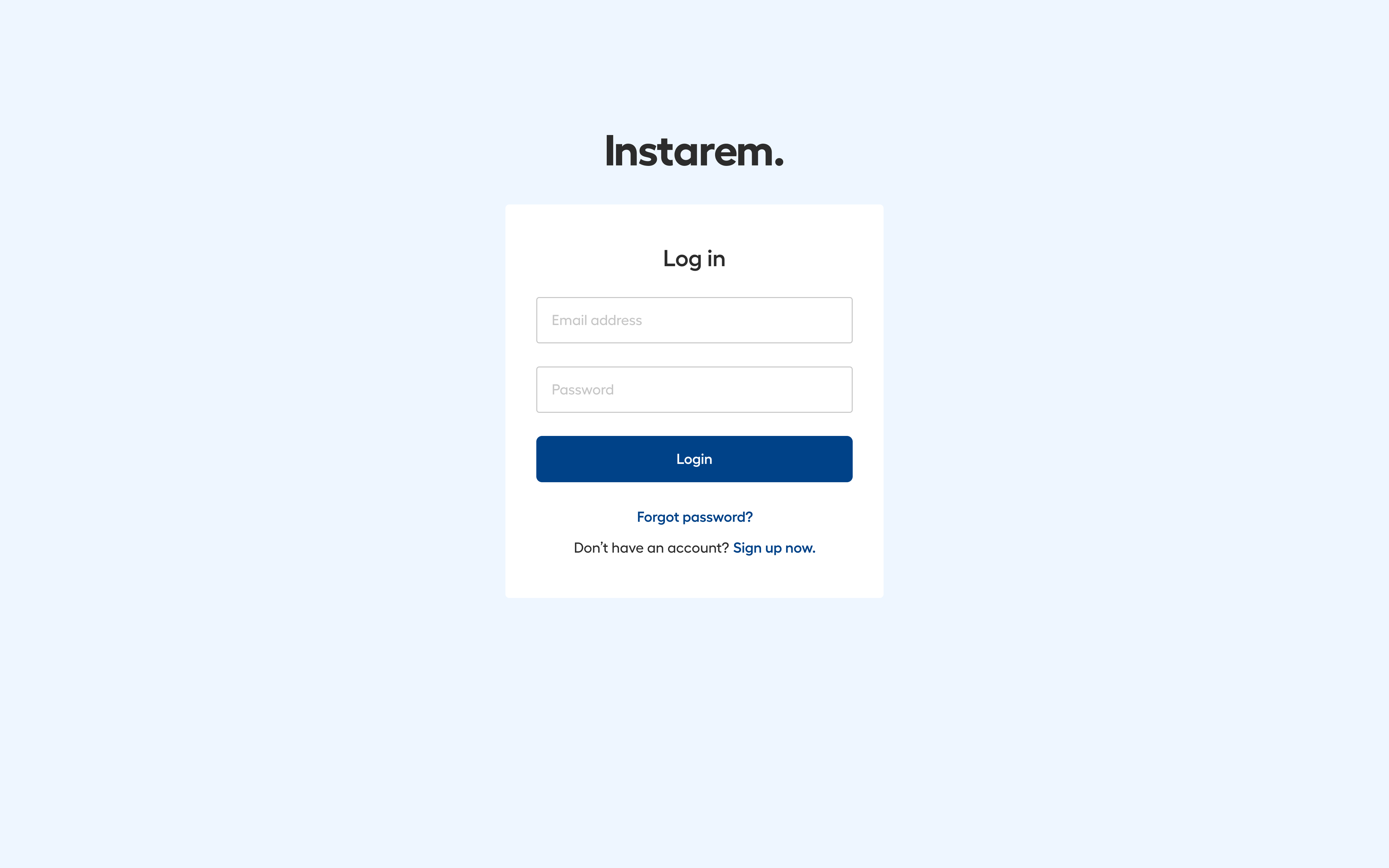 Go to send money

and s

elect either individual or group payments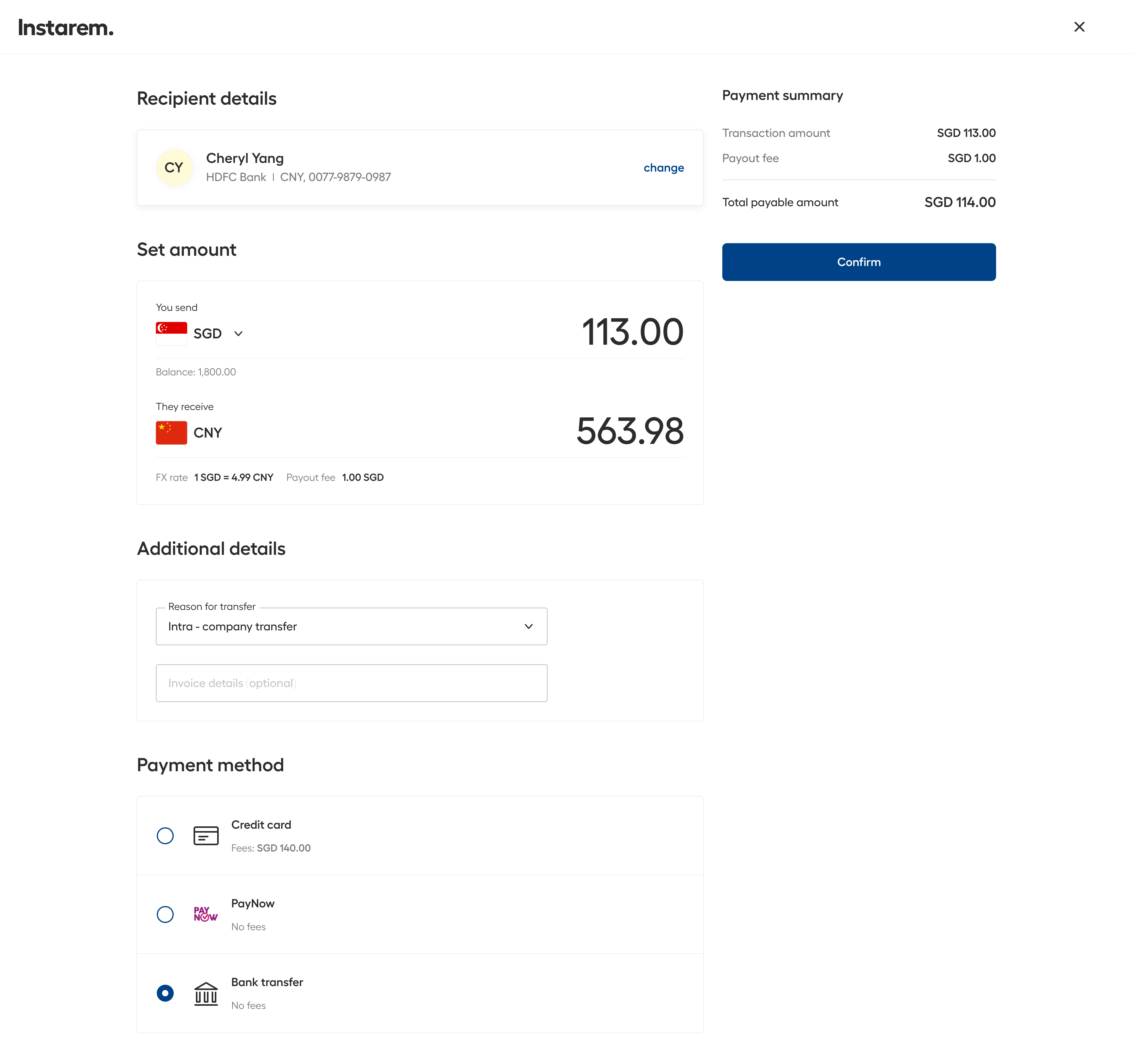 Input the amount and payment method, click on send money, and that's it! Payment sent.
Login now!
*Disclaimer: This article is intended for informational purposes only. All details are accurate at the time of publishing. Instarem has no affiliation or relationship with products or vendors mentioned.
**Disclaimer: All images shown are for illustrative purposes.