Streamline HR operations with these top HRMS tools
In today's fast-paced business world, HR departments face an increasing challenge to manage their workforce efficiently and effectively. This challenge has been amplified by the COVID-19 pandemic, which has forced many organisations to rethink how they manage their employees in a remote or hybrid work environment.
In response, HR departments are turning to Human Resource Management System (HRMS) tools to streamline their HR processes, improve data accuracy, and enhance employee engagement.
In this article, we'll explore the top HRMS tools available in the market in 2023 and provide an overview of their features, pricing, and benefits. Whether you're a small business or a large enterprise, this guide will help you find the right HRMS tool for your organisation's needs.
What is a HRMS?
HRMS tools are software applications that help HR departments manage employee data and automate HR processes. These tools can be cloud-based or on-premise and can range from basic solutions to full-suite systems that integrate multiple HR functions.
HRMS tools are designed to streamline HR processes, eliminate manual tasks, and improve data accuracy, making it easier for HR professionals to manage employee records, track benefits, process payroll, and more.
As we move towards an increasingly digitised business environment, the demand for HRMS (Human Resource Management System) tools has grown exponentially.
According to latest data, the global human resource management market size was valued at USD 19.38 billion in 2021 and is expected to grow at a CAGR of 12.8% from 2022 to 2030. This growth is primarily driven by the need for agile and effective approaches to HR operations, and the increasing adoption of automation and digitization in the workplace.
Enterprises are recognizing the importance of attracting the right pool of applicants, managing resources efficiently, and retaining human capital, and are turning to HRMS tools to achieve these goals.
As a result, HRMS solutions have become a crucial factor in enhancing and improving HR operations, and are expected to continue driving the market in the years to come.
Importance & benefits of HRMS to HR department
The importance of HRMS tools for HR departments cannot be overstated. Let's look at some of the immediate benefits that are crucial for the success of your HR departments.
Time and cost savings
HRMS tools can help you save time and reduce costs by automating time-consuming and manual HR processes. For example, HRMS tools can automate the payroll process, eliminating the need for manual data entry and reducing the risk of errors. By automating these processes, HR professionals can focus on more strategic activities that can improve employee engagement and satisfaction.
Improved data accuracy and compliance
HRMS tools can improve data accuracy and ensure that employee records are up-to-date and compliant with regulations. For example, HRMS tools can automatically update employee information, such as contact details, job titles, and salary changes, and ensure that they are accurate and up-to-date. This can reduce errors and help HR departments comply with regulatory requirements.
Enhanced employee experience and engagement
HRMS tools can help you enhance employee experience and engagement by providing self-service portals that enable employees to access and update their personal information, view their pay stubs, and manage their benefits. This can improve employee satisfaction and reduce the administrative burden on HR professionals.
Improved collaboration and communication
HRMS tools can improve collaboration and communication within HR departments by providing a centralised platform for HR professionals to share information, collaborate on projects, and manage tasks. This can help you work more efficiently and effectively, and improve overall departmental productivity.
Better analytics and insights
HRMS tools can provide you with better analytics and insights into workforce trends, enabling them to make data-driven decisions. For example, HRMS tools can provide insights into employee turnover rates, workforce demographics, and performance metrics, allowing HR professionals to identify areas for improvement and develop strategies to address them.
Keys for evaluating HRMS
Selecting the right HRMS tool is critical for any HR department, as it can have a significant impact on the organisation's efficiency, employee experience, and overall success. With so many options available in the market, it can be overwhelming to evaluate and choose the right HRMS tool that fits your organisation's unique needs.
Therefore, it is essential to understand the key criteria that HR departments use to assess and select an HRMS tool. These include factors such as user interface and ease of use, customization options, integration with other HR systems, data security and compliance, and customer support and training.
By carefully evaluating these criteria, organisations can choose an HRMS tool that is tailored to their specific needs. It is also important to note that the criteria for selecting an HRMS tool can vary based on organisation size, industry, and needs. Therefore, it is crucial to consider these factors when choosing an HRMS tool that aligns with the organisation's goals and objectives.
User interface and ease of use
One of the most important factors to consider is the user interface and ease of use of the HRMS tool. A user-friendly interface can significantly improve the adoption rate among employees, leading to a more seamless transition and quicker ROI. Some HRMS tools offer intuitive dashboards and personalised user experiences to make it easier for HR professionals to navigate and use the system.
Customization options and flexibility
Customization options and flexibility are also important considerations, as they allow HR professionals to tailor the HRMS tool to their unique organisational needs. For instance, an HR department may require specific features or functionality to automate its unique HR processes.
In such cases, the flexibility of the HRMS tool to accommodate those requirements becomes paramount. Some HRMS tools offer extensive customization options, allowing HR departments to tailor the tool to their specific needs.
Integration with other HR Systems
Integration with other HR systems is another critical consideration. HRMS tools that can seamlessly integrate with other HR systems such as applicant tracking systems, payroll systems, and performance management systems can help HR departments create a more cohesive and efficient HR ecosystem. This can help streamline processes, reduce data duplication, and improve data accuracy.
Data security and compliance
HRMS tools deal with sensitive employee data, and data security and compliance are crucial factors to consider. HRMS tools should comply with data protection regulations and provide features such as data encryption, access controls, and audit trails to ensure that employee data is secure and compliant with regulations such as GDPR and CCPA.
Customer support and training
Finally, customer support and training are essential criteria to consider. HRMS tools should offer comprehensive customer support and training to ensure that HR professionals like yourself can effectively use the tool and troubleshoot issues that may arise. This is especially important for organisations with limited IT resources.
More HRMS selection tips
In addition to understanding the essential factors to consider when evaluating HRMS tools, it is equally important to know the appropriate steps to follow when selecting the most suitable tool.
By following these HRMS tool selection tips, you can ensure that your HR department can make an informed decision and choose a tool that aligns with their requirements and goals.
Create an evaluation strategy
Before starting the selection process, create an evaluation strategy. This strategy should define the biggest workforce challenges, needs, and goals of the organisation. It should also determine the criteria for selecting the HR software system.
Assemble a cross-disciplinary buying team
To ensure that the selected HR software meets the needs of all stakeholders, assemble a cross-disciplinary buying team. This team should include representatives from HR, IT, finance, departmental managers, and staff who will use the software.
Identify requirements
Identify your requirements for an HR software system. This includes both technology requirements and business issues, such as international compliance needs. It is important to prioritise the requirements to focus on the most critical features.
Identify potential vendors
Use a variety of research methods to generate a list of possible HR software vendors. This can include reports, online research, and speaking with other companies. Once the list is generated, it should be narrowed down to five to ten vendors for further evaluation.
Send a request for proposal (RFP)
Send an RFP to the shortlist of HR software vendors. The RFP should be clear and concise and include information about the organisation, the project, timeline, submission rules, and scope. It should also include a vendor questionnaire to gather additional information.
View demos
Demos are the best way to judge the capabilities of HR software modules and features. Ask each vendor to build demos around actual use cases. Fully scripted demos that show the exact steps for employees are the best way to determine if a product will deliver.
Read case studies
Review case studies from HR software vendors to understand how their product has been deployed and adopted by other companies. Vendors should be able to provide reference customers who can answer questions directly.
Comparison and choices of top HRMS solutions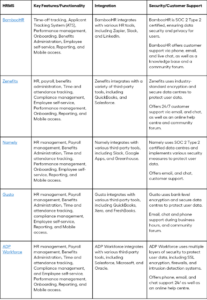 How much does HRMS cost?
The cost of an HRMS tool can vary greatly depending on the size of the organisation, the complexity of the tool, and the vendor providing the tool. Generally, the cost of an HRMS tool is based on a per-employee or per-user basis, and the cost can range from a few dollars to several hundred dollars per user per month.
Some HRMS tools may also require additional fees for setup, training, and customization. It is essential to research and compares different HRMS tools to determine which tool provides the most value for the cost.
It is worth noting that investing in an HRMS tool can ultimately save organisations time and money by automating HR processes and improving data accuracy. As such, the cost of an HRMS tool should be viewed as an investment in the organization's long-term success.
Does HRMS cover global payment?
HRMS is invaluable when it comes to human resources management, however, there is one aspect that HRMS doesn't cover — global payment solutions for business. But you don't have to look and search extensively for one because there is already a well-known and reliable global payment solutions and remittance service provider — Instarem.
Though Instarem is more commonly known as an online remittance service platform, it also provides businesses with global payment solutions with its one-click payment to multiple recipients. With Instarem global payment solution you can make fast and secure global or cross-border payments. Not only that, you will be able to enjoy the best rates when you make global payments.
Don't have an account? Sign up now!
**This article is intended for informational purposes only. All details are accurate at the time of publishing. Instarem has no direct relationship with the products or vendors mentioned.