Top online shopping sites in Malaysia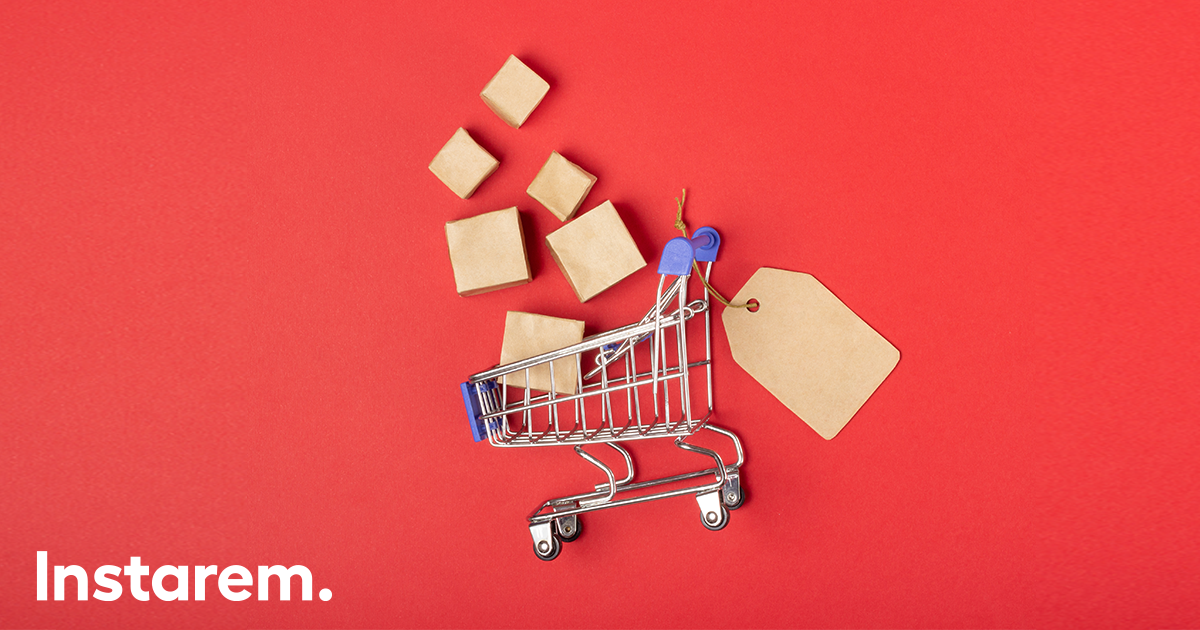 Looking for the best online shopping sites?
Online shopping can be far more convenient and also offers you a greater variety of products to choose from, be it grocery or retail shopping. Of course, there are risks such as scam/phishing websites that you need to watch out for when shopping online. That is why knowing where to shop online is the best way to prevent those things from happening to you.
Especially, if you just recently moved and settled down in Malaysia. That is why we have made a list of the top online (legit) shopping sites in Malaysia so that you can do your online shopping safely and without any worry.
Top online shopping sites in Malaysia (2022)
Lazada
Malaysia's top online shopping site was launched in 2012 and remains popular in Malaysia as the the-go-to online shopping site. Soon after its rise to popularity, Lazada was acquired by Alibaba, the Chinese e-commerce giant.
You will see three different types of sellers in Lazada; LazMall is the official and authorised seller for brands, local sellers are sellers based in Malaysia, and LazGlobal sellers are sellers based in China, Korea and Japan.
On Lazada, you can shop for a wide range of products, from electronics to fashion items.
As for the price, Lazada often gives coupons or discounts. You will be able to grab branded items for cheap.
Lazada also provides a variety of payment options. You can make your payment via credit/debit card, cash payment at 7-Eleven, online banking, Maybank instalments, or Touch 'N' Go E-Wallet,
You can browse on both PC and mobile devices via its application.
Product: A wide range of products; from electronics to lifestyle and beauty products
Shopee
Besides Lazada, there is Shopee, another top and trusted online shopping site in Malaysia. What makes Shopee another go-to online shopping site is that it offers a very competitive price range for its products.
Just like Lazada, Shopee also has three different types of sellers; standard sellers, preferred sellers, and Shopee Mall sellers.
Shopee is also well known for its generous rewards programme. With every RM1 that you spend, you will earn 1 Coin. You can earn up to 3,000 coins which you can use to get a discount of up to 25%.
Shopee provides a variety of payment options: credit/debit card, cash payment at 7-Eleven, online banking, Maybank instalments, or Touch 'N' Go E-Wallet.
Products: Offers a similar product range to Lazada, but Shopee also lets online shoppers purchase meals and foods.
Carousell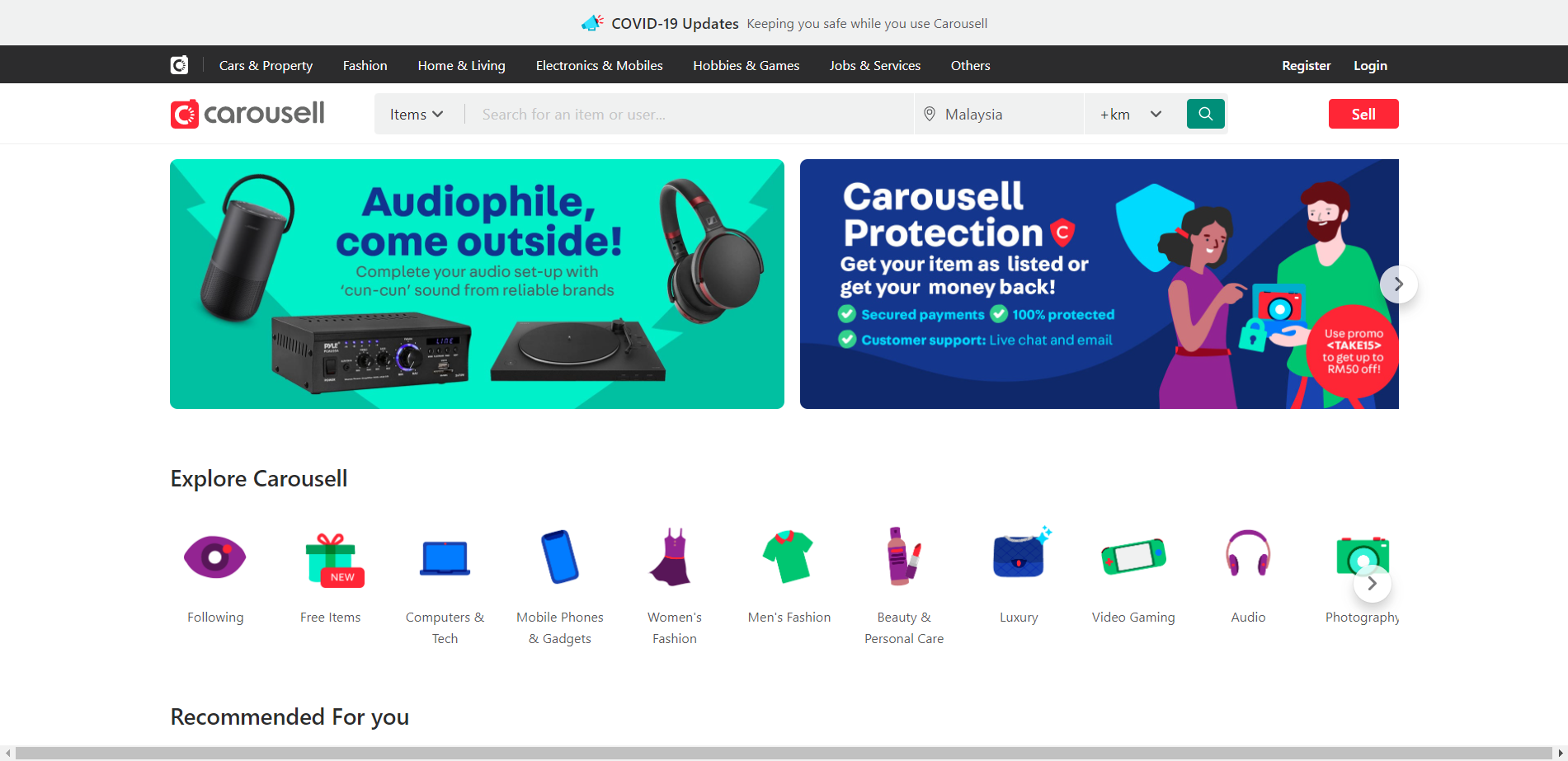 Carousell launched in 2012 and quickly gained popularity in Malaysia as the trusted online marketplace for new and used items. This e-commerce marketplace offers a wide range of products: from sports to properties. Yes, you can even find properties up for sale on Carousell.
However, you will need to be extra careful when shopping on Carousell, especially if you're buying a used item. You will want to verify the condition of the items before completing the purchase. You can arrange for photos or video calls to examine the items.
Fortunately, Carousell offers the Carousell Protection feature to online shoppers. The Carousell Protection allows you to make payments through one of the methods the site supports.
When you purchase an item labelled with Carousell Protection, the payment will be held from the seller until you have received and verified the item you purchased. However, only items labelled with Carousell Protection are eligible for this.
There are two payment methods; for items without Carousell Protection, the buyer may arrange the payment method with the item seller. For items that have Carousell Protection, the buyer can make their payment via GrabPay, online banking, credit card or debit card.
Products: A wide range of products to choose from; both new and secondhand products.
eBay
Though eBay is undoubtedly one of the most well-known e-commerce marketplaces. It is not so famous in Malaysia because the sellers are located in the US, and both shipping fees and product prices can reach up to hundreds of ringgit.
However, more and more sellers from Malaysia and other nearby Asian countries joined eBay in recent years; the shipping and item prices have become cheaper, and the delivery is faster.
eBay offers a wide range of products just like almost every other online marketplace on the Internet, except that eBay also lets you find and purchase more obscure, limited and rare items. So if there are rare products you can't find on Lazada or Shopee, chances are you can find them on eBay.
On eBay, you won't be able to buy the products straight away. Instead, you will have to bid for them. Unless you reach out to the seller directly and make an offer. Though it will depend on the seller and items, some are willing to accept a direct deal, while others will stick to bidding.
Products: A wide range of products is available. Including antique and rare products.
Mudah.My
Mudah.my was officially launched in 2007, so it can be considered a predecessor to Lazada, Carousell, and Shopee. This is the online marketplace Malaysians go to whenever they need to purchase something. However, it has since been acquired by Carousell.
Mudah.my tagline is "you can find almost anything". And that tagline isn't lying. On Mudah.my you can find anything from job listings to live animals up for sale. However, you will need to be careful while shopping on Mudah.my because fraudulent sellers are lurking. It is advisable to verify the product you are about to buy personally and opt for cash on delivery instead of Internet banking or online transfer.
On Mudah.my, the payment methods can vary and depend on the situation. If you prefer to verify the authenticity of the product you are buying, you can opt for cash-on-delivery. However, if you trust the seller or the product requires no verification, you can use Internet banking or online transfer.
Products: Almost anything. There is something for everyone on Mudah.my.
Signature Market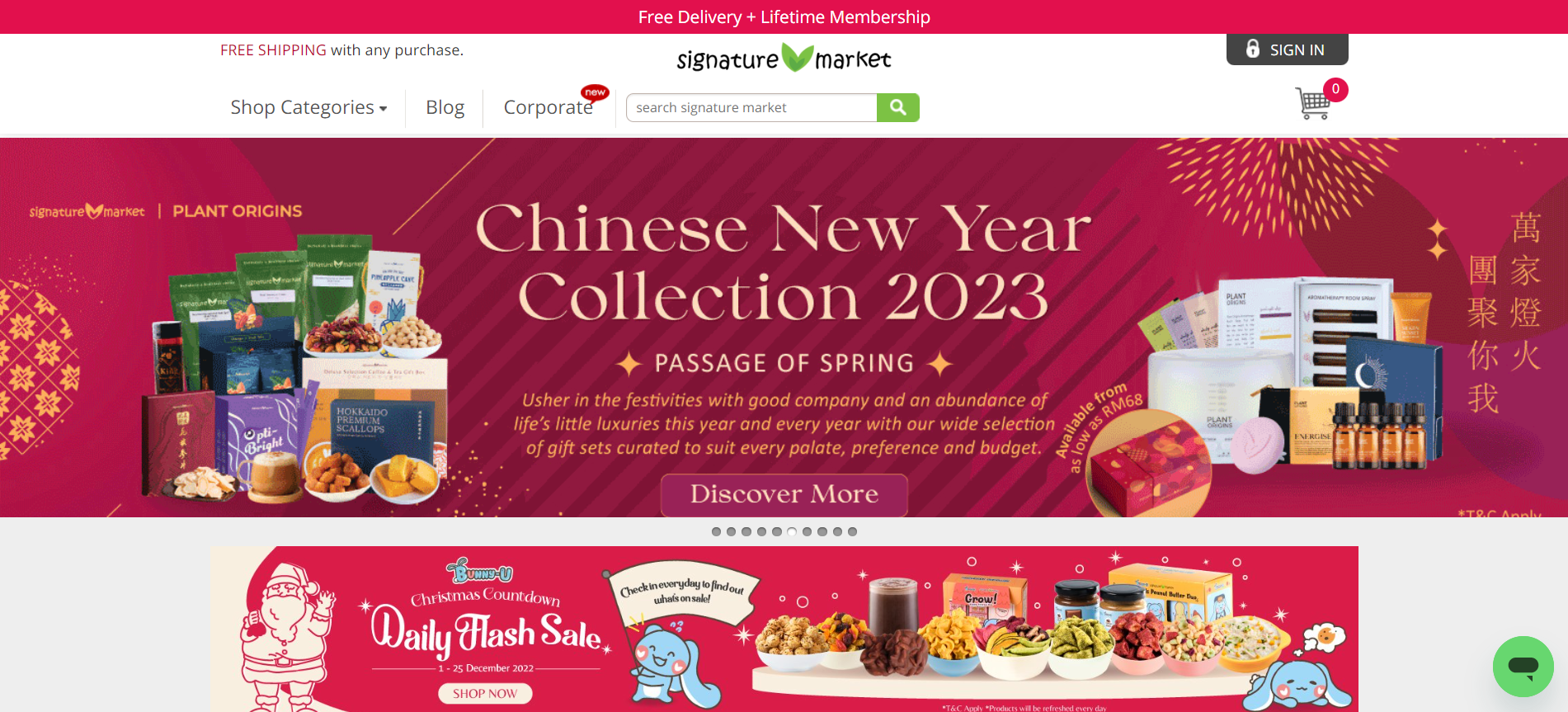 Signature Market is an online marketplace that focuses on selling healthy and quality snacks. So if you are in the mood for some healthy snacks, this is the online marketplace you should head to. You can find muesli bars, nut mixes, speciality teas, and tofu crisps. In addition to healthy snacks, Signature Market also offers skincare, grooming kits and gift sets.
Prices can be higher than those found in a brick-and-mortar marketplace, however, there are regular offers and discounted items. Another way you can get healthy snacks at a cheaper price is by buying the snacks in bulk.
Signature Market offers multiple payment options, including Boost and GrabPay. This will let you rack up points for those e-wallets. Meaning, more great deals for you!
The payment methods accepted by Signature Market are credit or debit cards, MAE e-wallet, Boost, Touch 'N' Go, and GrabPay.
The best part is the shipping is free for any purchase.
Products: Healthy snacks, skincare and grooming kits.
Harvey Norman
If you are looking for home appliances and electronics, Harvey Norman is the store you want to visit. This Australia-owned electronic chain store is one of the most well-known and biggest electronic brands in the Malaysian market.
You can find laptops, washing machines, televisions, gaming consoles, home theatres, speakers sets, etc. at Harvey Norman. Though their price might be slightly more expensive than the ones on Lazada or Shopee, they do offer clearance sale discount prices for older stocks occasionally.
The good thing when buying online from Harvey Norman is that you can be sure you will get a genuine product. Unlike when buying from smaller and unknown online retailers have the risks of receiving a knock-off product.
Harvey Norman only accepts and supports payments via credit or debit cards or online transfers.
Products: Authentic and genuine electronic products.
Taobao
Taobao has been around since 2003 but wasn't on the Malaysian market radar until a few years ago as it focused on mainland Chinese consumers. But now it is also famous among international online shoppers.
Taobao is very much like Lazada and Shopee, offering a wide range of products at attractive prices too.
On Taobao, there are standard sellers (individuals or small businesses), and Tmall sellers (registered and legit official brands) just like on Lazada and Shopee.
The downside for international users is that Taobao is entirely in the Chinese language, and there are no language options. So this can be an issue when you want to make a purchase. However, there is a workaround to this. You could opt for a Taobao agent like ezbuy to help you make the purchase, but using ezbuy will incur extra fees for your purchase.
Taobao accepts payment via credit or debit cards, online banking, Boost, and Touch 'N' Go.
Products: A wide range of products; from home electronics to skincare and beauty products.
Things to consider before making a purchase
Before you make a purchase, there are a few things you need to consider such as:
Your current address and location
Where you live will affect the shipping cost you will have to pay, some sellers may provide free shipping, but if the distance is too far, they may have to charge you for shipping as the delivery cost can be very expensive.
For example, if you order an item from Lazada, but the delivery address and location are outside of Malaysia, the seller will have to charge you an international shipping fee.
Payment methods:
Online shopping sites usually provide and support multiple payment methods; Internet banking, online funds transfer, etc
Returns and cancellations policies
Before making any purchase, thoroughly read a seller's returns and cancellation policies. Understanding a seller's returns and cancellation policies will help you to resolve the situations such as faulty items or not as advertised.
Seller's legitimacy
Make sure to run a little research and background check on the seller you want to make a purchase from. This is to avoid you from being scammed. Not all sellers on online shopping sites are legit and honest.
Research banned products
This is an important thing to research, some products you are about to buy may not be legal and banned in your country, so to avoid issues with customs, check with your country's customs department.
Before you go…
Making the big move to Malaysia?
Congratulations! You've made a great choice! But before you focus on getting comfortable in your new home, there's one important thing you need to take care of: arranging your finances.
Whether you are an expat student or an expat worker in Malaysia, you will be receiving and sending money to your home country. The good news is that there are several ways to send money from Malaysia, including online money transfer services like Instarem.
To avoid losing out on overseas money transfers, it is always a wise move to select a money transfer service provider that allows you to instantly transfer money at a reasonable cost and with no hidden charges.
As an expat or international student in Malaysia, you would be able to transfer money via Instarem to 55+ countries at low fees and great rates.
Try Instarem for your next transfer.
Download the app or sign up here.
*Disclaimer: This article is intended for informational purposes only. All details are accurate at the time of publishing. Instarem has no affiliation or relationship with products or vendors mentioned.