5 ways to care for your ageing parents: An expat's guide
Ready to pack your bags and live an exciting expat life?
Sure, it's daring – but with some careful planning, you can wave goodbye to home without worrying about leaving mom or dad behind. With thoughtful arrangements in place for their care and health when you are far away, there is no guilt or worry stopping this fearless 'world citizen' from embracing a new adventure!
Let us show you how; check out our ideas on taking good care of parents while living abroad.
Plan in advance
Establish a strong, coherent plan of action with your peeps!
Set up home visits: Make sure to schedule regular visits home to check up on your parents and ensure they are getting the help and support they need from you or other family members during this time in their life.
Don't get caught out in the cold – put a little away each month and build an emergency travel fund, so if you ever need to race home like Usain Bolt you'll have your high-speed ticket ready!
Plan a surprise trip for them: Take care of all the details – from tickets, passports & visas to wheelchair access and airport pickups. Let your parents know they just have one easy thing left to do: "Come Over!"
Have a proper conversation
Sitting down to talk with your elderly parent's care can be tricky, but the key is framing it with love!
Let them know that no matter where life takes you, their well-being is a priority.
Spend time discussing what they desire for themselves. This includes everything from final resting place requests to Do Not Resuscitate (DNRs) as well as any items of sentimental value you should keep in your family during times of long illness or hardship.
Don't forget that when having these conversations you're doing so out of careful consideration rather than fearmongering – this way everyone wins.
You might be interested in: 8 free calling and chat apps for expats in Asia
Utilize technology to stay connected
Don't leave home without setting up communication devices for your ageing parents back home! Before you set off on your expat adventures, get them a device capable of international calls or chats and make sure they know how to use it.
If it's a prepaid device, provide enough minutes so they can call you as often as they want- no more excuses not to catch up! And if you want to make doubly sure they'll always be able to reach you, why not set up an automatic billing system through your bank account or cashless payment service? That way, your parents will never have to worry about chatting with their overseas child again.
Try scheduling a weekly Skype or WhatsApp video call, this is a great way to stay in touch with your parents and make them feel like they're part of the action.
Especially great for when you have kids who are missing their grandparents and long to see them – having a scheduled video chat every week helps maintain that personal connection. Even on days without video calls, don't forget about your parents!
Send them funny messages or tag them in funny posts – and don't let yourself get isolated in the busy life of an expat.
Don't forget to pay attention to their non-verbal clues. If something's off, watch out for signs like them seeming more exhausted than usual, avoiding questions about their health or social life, or being more subdued than normal.
Be aware too if they're having trouble focusing on the conversation – like asking you to repeat yourself or appearing forgetful – as this could signal a bigger problem. Lastly, take a look around their living environment: if it's looking messier than normal, it might be time to check in with their doctor or medical proxy – even if they don't tell you outright that something is wrong.
Keeping an eye out doesn't have to be all serious though – try making light of the situation in your own special way while keeping guardianship of your loved ones at the top of your agenda.
Take care of the medical aspects
As medical marvels continue to extend the average lifespan, they don't always guarantee a healthy life. Enable your parents' longevity by exploring health insurance possibilities, preferably with an expert advisor's advice so you have all available information at hand.
When shopping around for coverage, be sure to get the best! Keep their paperwork and emergency contacts close at hand and build up that 'parent care tribe' of family docs or other healthcare pros who look out for them too!
Don't wait for an emergency to strike! Get your parents prepared in the best way possible by programming all essential numbers into their phone on speed dial and teaching them how to use it.
Also, if any health problems already exist be sure you make their house as safe & accessible as can be – from grab bars and chair lifts to wheelchairs or walkers; keep those prescriptions stocked too!
Try to hire someone to ensure regular cleaning is done so that they have a clean & comfy home environment with no worries.
If your parents need a little extra TLC while you're away, it might be time to enlist the help of an experienced professional care provider. They can bring their medical and emotional expertise right into your home so that mom and dad get all of the support they require – whether part-time or 24/7!
Provide financial support
A "just in case" fund is something worth considering when you're looking to provide financial support for your parents.
So whether they're 80 and still tearing it up on the dance floor, or if they're trying to manage a quickly shrinking bank account – set them up with an emergency stash! Just make sure you do your research first.
Talk to whoever is responsible for their healthcare – doctor, medical advisor – so your calculations match their specific needs. And don't forget where the stash should be hidden – in an easily accessible savings account is ideal.
You might be interested in: Emergency fund: Why an expat needs one and how to get started
Before you go…
But before you go ahead and transfer money between bank accounts in different countries, remember this – banks charge hefty transaction fees, which could take a huge toll over time. Save yourself from additional losses by using reliable, low-cost money transfer services like Instarem!
Instarem offers competitive exchange rates and low fees, which will help you to save and stretch your hard-earned money further.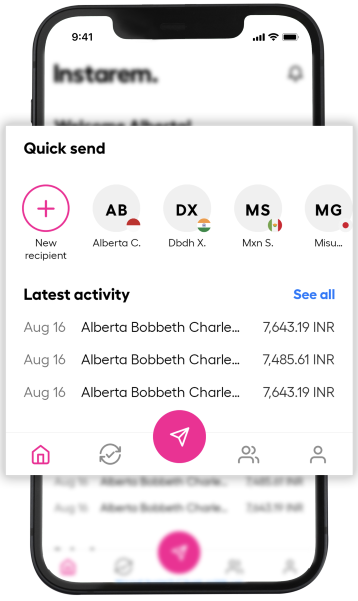 In addition, Instarem offers a convenient and user-friendly money transfer platform that makes it easy and quick to send money back home to your family and friends. Be sure to check out and sign-up with Instarem if you are looking for a way to save on money transfer costs.
Download the app or sign up here.
*Disclaimer: This article is intended for informational purposes only. All details are accurate at the time of publishing. Instarem has no affiliation or relationship with products or vendors mentioned.