Are employment agencies the best way to find overseas jobs?
If you plan to work abroad, someone might have suggested that if you register with an 'overseas employment agency', your chances of finding a suitable job will probably be higher than if you applied directly to overseas companies. These agencies, also known as international recruitment agencies or overseas placement agencies, typically act as a liaison between international job-seekers and the firms looking to hire them.
All over the world, job-seekers go through such agencies to find jobs outside their home countries, and both job seekers and employers rely on the expertise of these agencies. But the big question is how helpful are these agencies for job seekers?
As a job applicant who dreams of working in a foreign country, should you sign up with an overseas employment agency?
What are the possible advantages of doing so?
And can such agencies actually help you find your dream job?
In this article, we will attempt to answer all these questions by sharing the pros and cons of going through an overseas employment agency. We will also share some practical hacks on how you can identify and avoid unscrupulous agencies.
How can an overseas employment agency help you with your international career?
If you're looking for a job overseas, you can contact overseas recruitment agencies through their website's job board, via email or by calling them directly. The agency will screen your résumé and contact you if they feel that you're a good fit for that role. Make sure you provide your own contact details to make it easy for them to get in touch.
Here are some of the advantages of using an overseas employment agency:
You're getting help for free:

Recruitment agencies are contracted by their clients (hiring companies) and are paid by them if they're able to find suitable candidates to fill vacant positions at these companies. Therefore, candidates have to pay nothing to use their services.

They have a large network that can give them knowledge about and access to jobs that may not be directly visible to job-seekers (on job sites, boards, LinkedIn, social media, etc). In fact, employment agencies are often the first to hear about vacancies. Therefore, they can put you in touch with clients and projects that may appeal to you and thus, help you find your ideal job overseas.
They know the labour market and manpower requirements in your target country: Overseas recruitment agencies often specialise in specific industries in specific countries, so they know where the opportunities are for someone with your skill set and experience. Also, candidates who undertake the job search on their own often find that the process is highly competitive and almost never yields positive results for them. Finally, an agency will be able to help you set solid goals and realistic expectations – both important qualities for a successful job hunt.
They have a known reputation:

Some companies prefer to hire (even interview) international candidates that have only come through a known recruitment agency. This is because often companies work with the same agency for years and therefore trust their opinions and recommendations about the candidates they refer for interviews.

They take the guesswork out of the application process:

Because a recruitment agency will get paid only if their candidate is hired by the client, they have a vested interest in pushing your application forward as long as you match the job profile. Therefore, they will follow up on your application and 'hold your hand' until you are either rejected or hired by the company. They may also assist you with writing your résumé and cover letter and may conduct mock interviews with you. If you are offered the job, they may even negotiate your salary and terms of employment with the hiring company.
Are there any disadvantages of signing up with an overseas employment agency?
If you're a job-seeker looking for international career opportunities and have signed up with an overseas recruitment agency, you may end up having a bad experience for a number of reasons. Here are some of the possible disadvantages that you need to prepare yourself for:
You are not their priority, their client company is:

Recruitment agencies are paid by the hiring company so their focus will be on finding the

best-fit employee for them

, and not necessarily on finding the

best-fit job for you

.

They may be impersonal or inattentive, and uninterested in building a long-term relationship with you:

Again, they may see candidates as the means to an end, i.e. more money from the client. They may also push other candidates forward for the same role, increasing your competition and decreasing your chances of being hired.

Their processes may be opaque:

Some agencies intentionally keep candidates in the dark about their application status. And they may not provide complete information to the candidate that may help them research the hiring company or job profile. In some cases, agencies don't even send some candidates' résumés across but say they did.

They may not support you if you're a career-changer:

Often, employment agencies work within an industry or particular job profiles. So if your experience and skill set matches an open job in their database, they may push you to apply for that, even if your primary aim is to change careers and find a completely different type of job.

They may raise candidates' expectations and then fall short of meeting them:

The agency may claim to work with many employers and have access to many job openings, but this may not be strictly true. They may also promise to fully support you during your job search but may not actually do so. In either case, you may end up wasting your time and becoming disappointed when you don't get the expected results.

They may not be able to help you with your visa:

Some agencies can, many can't, mainly because visa advisory agencies are required to adhere to a different (national and/or cross-boundary) set of rules and regulations. And even if they find you a job and you accept the offer, they may not be able to help you with relocation – that onus may rest entirely with you.
You Might Also Like To Read: 12 best job search websites to help you find your dream job
Useful advice if you do sign up with an overseas employment agency
To avoid the above disappointments, keep these general tips in mind:
1. Do they ask you to pay money or provide confidential financial information?
Most recruitment agencies earn their revenues from the companies that hire their candidates, and not from the candidates themselves. If your agency is asking you to pay for any of their services, you should not sign a contract with them, regardless of their promises, reputation or past history of success.
In addition, an agency that asks you to provide confidential information such as credit card or bank account details is not just fake, but probably running an illegal scam.
Also, if the agency is asking you too many questions about your past colleagues and the companies you have already applied to, then it's possible that they are using you for generating 'leads' for other candidates. This increases your competition and affects your chances of getting the job.
2. What does google say about the agency & the company the agency claims to have 'found' for you?
Do a quick Internet search for the agency and evaluate the results. Do you find broken links or missing content about the agency? Does clicking on a particular link redirect you to an unexpected or 'strange'-looking website? Do you discover negative comments and social media conversations or press releases criticising the agency's management, values, actions or ethics?
Even worse, is there almost no trace of the agency on the Web? A good agency with a solid reputation will have a good website with relevant information in the public domain. This would include:
The industries they operate in

Their solutions portfolio

Contact details (including a physical address)

An up-to-date job board
A genuine agency will also have a good presence on professional social networks such as LinkedIn or Glassdoor. The Internet makes it very difficult for companies to hide, so if your agency appears to be an Internet 'ghost', then it's probably fake.
Similarly, research the company the agency has matched you with. It should also have some Internet presence, starting with a good, professional-looking website and social media presence.
If the Internet doesn't yield a lot of useful information about the agency or hiring company, you may need to explore offline sources of information – an industry or accreditation body such as Better Business Bureau, a government ministry, a city's chamber of commerce bureau, your professional/personal network, etc. If no relevant information surfaces, the agency and/or company may be fake. And if they show up on official 'scam' lists on a government advisory, for example, then warning bells should go off in your head because the organisations are obviously fake.
3. Are the agency's recruitment consultants communicating through a free email account?
Almost all genuine companies have a corporate email account. If your agency communicates with you through a free Yahoo, Gmail or Hotmail email account or matches with you a company that does, either or both are likely to be fake companies. Pay attention to email addresses and email signatures and you may be able to separate the genuine ones from the fakes.
4. Does the agency provide sketchy information or make promises that sound too good to be true?
For most people, moving to a foreign country for work is a life-changing decision and gives rise to a lot of questions and doubts about the hiring company, job profile, training and onboarding procedures, management, etc. Your agency should be able to provide these details or at least put you in touch with someone in the company who can. If it can't or won't, then you're not getting the best possible opportunity to find a suitable job through them and will be better off signing up with another agency.
Also, it is very rare for an organisation to hire people simply on the basis of an 'impressive' résumé and without interviews and/or background checks. If your agency claims that you've been hired without an interview, the 'job offer' is probably fake. In addition, if you are promised a remuneration that seems 'bloated' for your qualifications, skills or experience, the offer is probably not genuine. Finally, if they sound overconfident about your chances, remember that only the hiring company can make hiring decisions, not a recruitment agency.
If a promise sounds too good to be true, then it most probably is!
You Might Also Like To Read: 9 important questions to ask your employer before accepting a job offer overseas
5. Does the agency encourage you to lie to employers or at least 'pad' the truth?
An agency that encourages you to lie on your résumé or during an interview about your personal or professional history is obviously unethical and encouraging you to be unethical as well. In time, employers will get wind of such unscrupulous practices, which may have long-term repercussions for your professional life. In the short term, it may reduce your chances of fulfilling your dream of working abroad.
Stay away from such agencies and stick to the truth in your résumé and interviews.
Now that you know both the advantages and disadvantages of signing up with an overseas job agency, you will be able to make a more informed decision about how to proceed.
More tips to help you improve your overall experience with an overseas employment agency
When working with an overseas agency, keep the following tips in mind:
Do your research:

Before you sign up with an agency, get more information about their reputation, working principles, success rates and client base.

Never give them any money:

If an agency asks you for money to cover their 'operational expenses' and makes excuses about giving you a proper receipt, don't sign up with them.

Build a long-term relationship:

Once you've ensured that the agency is genuine, try to build a relationship with them based on mutual trust, truth and respect.

Keep an open mind: An experienced, competent and knowledgeable agency should be able to find you a number of suitable positions and companies based on your résumé and career goals.
Understand that they have their own priorities: Understand their priorities and build a mutually profitable working relationship and probably even get better results for your career.
Be patient: A wonderful new role may not fall into your lap within the first week of signing up. Stay in touch with the agency (don't hound them though!) and be patient, proactive and clear about your needs and goals.
Don't be afraid to switch agencies: If the agency you've signed up with is just not working out for you, don't be afraid to sign up with a different agency. Just ensure that you make this decision thoughtfully and pragmatically, not emotionally.
And if you have already secured an overseas job, don't forget to use Instarem to help you manage your money and easily move it overseas.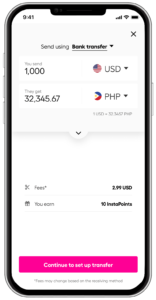 *Rates are for display only.
Here are a couple of reasons to consider Instarem:
Cost-effective
Low transfer fees enable you to send money to multiple destinations without burning a hole in your pocket.
Easy and fast
Transferring money to other countries is typically an instant transaction.
Trusted and secure
Instarem is regulated by nine financial regulators across the globe. Instarem is a trusted licensed service provider with licenses in Australia, Singapore, Hong Kong, Malaysia, India, UK, US, EU, and Canada.
Earn loyalty points
You will be rewarded with loyalty points which are referred to as 'InstaPoints' for every transaction and referral you make via Instarem. You will then be able to redeem your points and get great discounts for future transactions. Remember, the more you transfer, the more you earn!
Transparency
Absolutely no hidden costs. You will be in the know of the exact rates and fees applied to your money transfer.
Try Instarem for your next transfer.