Top 10 reasons to study in Malaysia
Moving out of the home and studying in a faraway land can be challenging, but it's a decision that can shape your future. Once you weigh the pros and cons of studying abroad, you will realise that it could be one of the best decisions you have made in your life. And, believe us, it's not just the great quality of education you would be benefiting from. Studying abroad exposes you to a variety of cultures from around the world, helps you gain greater communication + people skills and instils a global mindset in you. It opens up a world of improved career prospects all around the world for you.
With top-notch education standards, Malaysia is fast becoming a hot favourite with international students. Its educational institutes such as Universiti Malaya (#70 in QS), Universiti Putra Malaysia (#123 in QS), Universiti Kebangsaan Malaysia (#129 in QS) and more are counted among the top 200 universities in the world. The best part of Malaysia is its international students from around the globe including India. Presently, there are more than 170,000 international students from over 162 countries in Malaysia.
There are over 100 recognised universities that provide you with tertiary education in 151 courses. An undergraduate course in Malaysia would cost just 51,330 MYR (USD 11,800). Malaysia also offers you international degrees from the UK, the US, Australia and other countries at lesser costs. If you are planning to study abroad, here is an article that lists why Malaysia is a great place for higher studies.
1. Rapidly improving the quality of higher education
Though not at par with other Asian countries such as Hong Kong and Singapore, Malaysian universities are improving rapidly, and aren't far behind universities that impart world-class education. Some of the universities offer courses in computer science and engineering that rank among the world's top 100 courses, all thanks to Malaysia's education system and its focus on international standards. The education standards are closely monitored by the Ministry of Higher Education, which has the vision to turn Malaysia into a Centre of Excellence for Higher Education.
2. Destination for international degrees
A major part of Malaysia's state investment in higher education is its growing partnerships with universities in other countries. Many foreign universities, especially Australian and British, have branch campuses in Malaysia. For example, Monash University (Australia) and the University of Nottingham (UK), both among the top 100 universities in the world, have branch campuses in Malaysia. Malaysia's First City University College (previously known as KBU International College) has tied up with UK's Anglia Ruskin, Teesside University and Hotel and Tourism Management Institute, Switzerland.
Johor is home to EduCity Iskandar, a giant international student village and campus shared by the following:
Newcastle (medicine) in the UK

Netherlands' Maritime Institute of Technology

Singapore's private Raffles University

University of Reading

MDIS Malaysia
Educity International College
This education hub aims at bringing world-class higher education to the heart of the ASEAN region.
You might be interested in: Best way to send money to India
3. Lower costs of studying & living
The cost of studying and living in Malaysia is comparatively lower than countries such as Australia, the US, the UK, France, Canada, etc. While an undergraduate course at the UK Campus of the University of Nottingham would cost USD 150,000, the same course at the Malaysia campus would cost MYR 174,000 (approximately USD 40,000). The course has the same module content, has the same evaluation criteria and the same marking scheme. Hence, the degree has the same weightage as the one from the UK campus, but at a significantly lower cost. Besides, the cost of living in Malaysia is considerably lower as well, which eases your financial burden. It's a win-win situation for international students as they can live comfortably at a cost of about MYR 1500 a month. (This includes food, accommodation, and other daily expenses).
You might be interested in: Important Financial Considerations For Studying Abroad
4. Job opportunities for students
International students studying in Malaysia are allowed to work part-time for 20 hours per week during semester breaks or holidays. Students are encouraged to work in mini markets, restaurants and cafes, hotels and petrol stations. However, students are not allowed to work as a cashier, singers, masseurs, musicians or other such jobs.
After completion of higher education, employment prospects widen. Based on the Critical Occupation List (COL) 2020/2021 by TalentCorp and the Institute of Labour Market Information and Analysis (ILMIA), here are a few popular courses that give a student an edge over the rest when it comes to employability.
Engineering

– M

echanical engineer, electronic engineer, telecommunications engineer, quality assurance engineer, industrial engineer and process engineer



Information and Communication Technology (ICT)

–

Systems analyst

,

software developer

,

database analyst

,

network analyst

,

technical helpdesk analyst

and

test engineer



Business Management

–

Sales manager

,

marketing manager

,

management consultant

and

human resource manager

Finance

–

Research analyst, corporate finance adviser, financial planner and finance executive



Accounting

– A

uditor

,

tax consultant

,

financial controller

,

management accountant and

GST specialist

Communications

–

Communications manager

,

producer

,

scriptwriter and customer service manager

Logistics and Supply Chain Management

– L

ogistics manager, supply manager, warehouse manager, distribution manager and procurement officer



Graphic Design and Multimedia

– Web designer, graphic designer and 3D artist



Actuarial Science

– Actuarial science mathematician

,

product actuary

,

data scientist and

predictive analyst
5. Seamless immigration procedures
International students in Malaysia benefit from the easy and trouble-free immigration procedures as compared to other countries which have stricter student immigration procedures.
6. Safety is not a concern
Malaysia is one of the safest and politically stable countries in the world with a relatively low crime rate. The weather in Malaysia is sunny and rainy all year without extreme cold or hot weather conditions making the weather easy to adapt to. In 2023 Global Peace Index ranked Malaysia the 19th most peaceful country out of 163 countries.
7. Unique & diverse culture
On the whole, Malaysians are friendly, welcoming and love to socialise. The country is a contrasting blend of people from around the world with a vast number of ideologies. This makes Malaysia more congenial for international students.
8. No language barriers
Malay and English are the most spoken languages in the country. Other languages and dialects that thrive in the country are Mandarin, Cantonese, Hindi, Telugu, Malayalam and Tamil among others. A majority of the universities in Malaysia conduct their lectures in English. Hence, it is easier for international students to understand the lectures better.
Furthermore, there are many language centres and higher education institutions that offer basic English courses for those who are not proficient in English.
9. Wanderlust for travel enthusiasts
Travelling in a friendly, beautiful and culturally rich country is far more affordable than imagined. One gets extremely good value for money here. The stunning variety of attractions and free-time activities in the thrilling metropolitan area of Kuala Lumpur and the natural wonders such as Langkawi, Taman Negara, and Cameron Highlands ensure you will never run out of things to see and do.
10. Foodies' paradise
With the many cultures thriving together in Malaysia, this country is every foodie's heaven with a great variety of cuisines. Both Halal and non-Halal dishes are widely available in Malaysia. Dig into traditional Malay food or Chinese, or Indian fast food at Penang, which is considered the street food capital of Malaysia.
Sending money overseas?
Let Instarem be a part of your journey. Here's why:
Cost-effective
Low transfer fees enable you to send money to multiple destinations without burning a hole in your pocket.
Easy and fast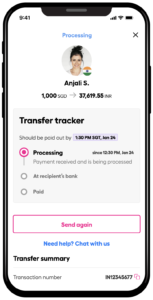 Transferring money to other countries is typically an instant transaction. You can also track your transaction via the transaction timeline.
Trusted and secure
Instarem is regulated by nine financial regulators and is a trusted licensed service provider with licenses in Australia, Singapore,Hong Kong, Malaysia, India, UK, US, EU, and Canada. All its transactions are protected with the latest anti-hacking software to protect your transfer.
Earn loyalty points
Users are gifted InstaPoints, which can be used to redeem as discounts on later transactions. This is very helpful for frequent transactions as one can save on currency in the long term.
Transparency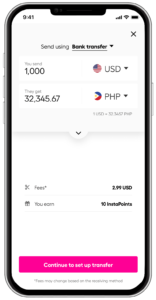 *rates are for display purposes only.
Absolutely no hidden costs. You will be in the know of the exact rates and fees applied to your money transfer.
Try Instarem for your next transfer.