Eurail pass guide: The ultimate guide to cost, map and all things related to eurail tickets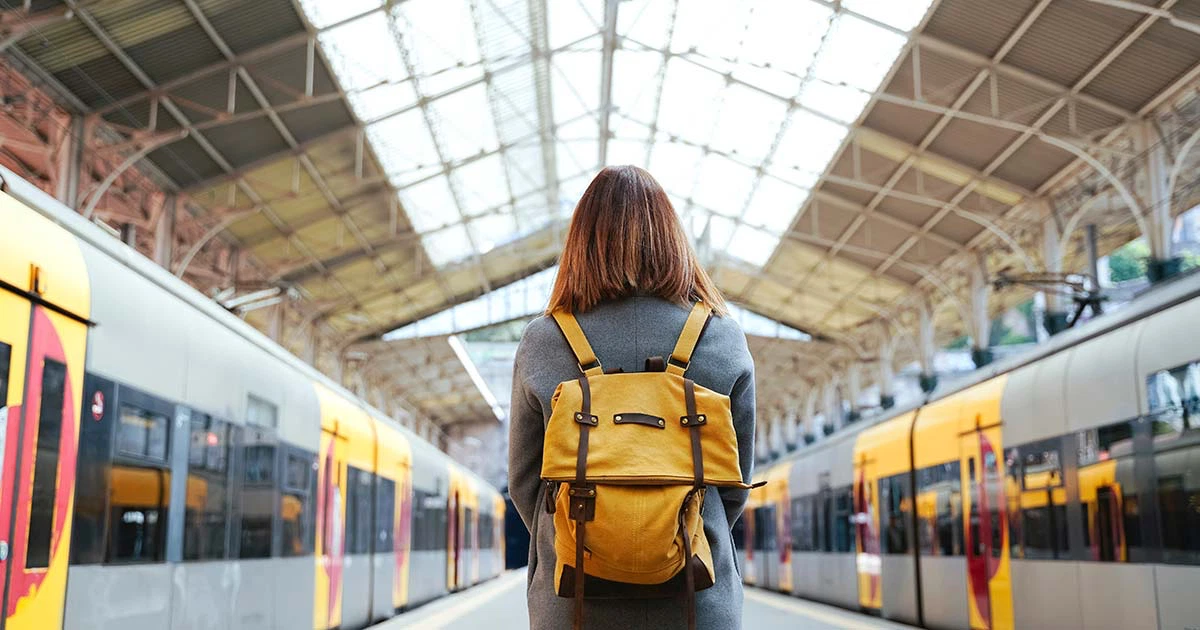 Thinking about heading to Europe for a business trip, study exchange, or just a good old vacation? Well, here's a tip: maximize your time there. Instead of dealing with pricey flights and all the hassle they come with, why not give Eurail a shot? It's like a cool collaboration between various train companies across Europe, giving you the freedom to explore the continent at your own pace.
And disclaimer: Eurail, Rail Europe, and Interrail are all different. Rail Europe is the official seller of Eurail tickets and passes; Eurail pass provides tickets for non-Europeans, while Europeans have their own pass called Interrail. These options provide a more convenient and exciting way to travel around the country.
Alright, to give you a helping hand, we've whipped up a one-stop guide that spills all the beans about Eurail. We're talking about the roots of the Eurail pass, a nifty Eurail map, the scoop on Eurail pass costs, and a bunch more goodies. Just consider it your ultimate Eurail info hub.
What is Eurail?
In 1959, the Eurail Pass was introduced, initially named Europass and Eurorail Pass. This brilliant concept allows travel across 33 European countries via railways and even some ships. The first Eurail pass, back in 1959, enabled exploration of all of Europe, initially connecting with 13 countries.
Despite its limited reach, it became immensely popular among travellers for its flexibility. Over time, this offer transformed into a yearly journey for 250,000 adventurers. Presently, Eurail offers access to a vast network of tracks covering 250,000 kilometres across 33 countries—a true testament to its evolution.
Interrail vs Eurail – what is the difference?
No need to scratch your head over this – they're pretty much the same thing!
Then why is there a different naming? Is the Eurail Pass only meant for Europeans?
Eurail Passes are for non-European citizens or residents, while European citizens can opt for an Interrail Pass.
The reason for having different names is pretty much because when folks from Europe, like citizens or residents, get an Interrail pass, it can be a tad cheaper. That's because they're already chipping in with taxes in Europe.
Now that you know the definitions, let's talk about the Eurail map of Europe.
Eurail map
Get your Eurail adventure on track by diving into the Eurail Map. But wait, what exactly is the Eurail Map? Since you're journeying by train, having a Eurail map of Europe is a must. It lays out the whole deal: the places you can hit up across 33 countries and how long it takes to chug between cities.
For the nitty-gritty details, you'll find the Eurail pass map PDF right on the website. And hey, if you're curious about average travel times between major European cities across those 33 countries, the Eurail train map on website has got you covered.
Eurail pass cost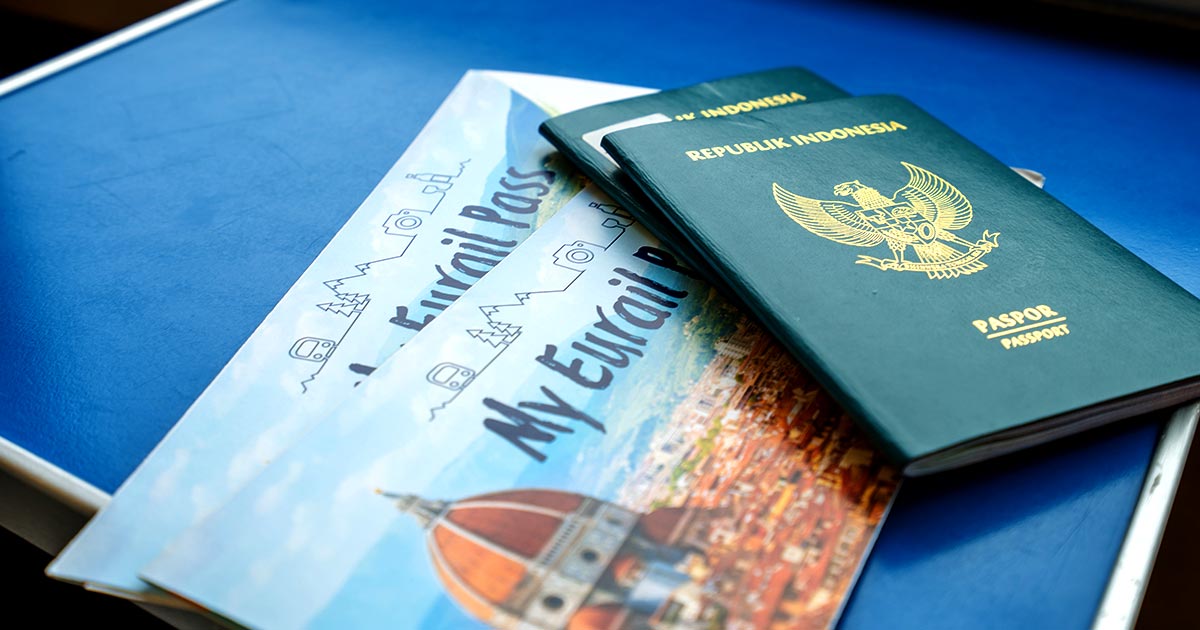 Before you start googling "how much is a eurorail pass", you might want to ask yourself a few questions first:
Are you aiming for one country or hopping around a bit?
How many days are you planning to be on the move?
Are you travelling in first-class seats or second-class seats?
Is it just you or a whole crew you're rolling with?
And what's the age group in the mix?
Once you have an answer, here's how you should navigate the website to purchase your Eurail tickets.
Eurail tickets – One country pass
If you're hopping between cities within a single country, this is the pass that's totally your jam. You get to pick from 29 European countries to explore. After you've picked out your country, the next step is to choose your travel dates. Just a heads-up, though: the passes don't cover seat reservation fees, so keep that in mind.
And to give you an idea, here's a ballpark figure of what the Eurail pass might cost you for each country for a single traveller (one adult).
Country

1 day

within 1 month

2 days

within 1 month

3 days

within 1 month

4 days

within 1 month

5 days

within 1 month

6 days

within 1 month

7 days

within 1 month

8 days

within 1 month

Italy

Not applicable

Not applicable

173 USD

206 USD

234 USD

259 USD

Not applicable

306 USD

France

92 USD

138 USD

173 USD

206 USD

234

USD

259 USD

283 USD

306 USD

Spain

Not applicable

Not applicable

202 USD

234 USD

262 USD

287 USD

Not applicable

333 USD

Sweden

Not applicable

Not applicable

202 USD

234 USD

262 USD

287 USD

Not applicable

333 USD

Portugal

Not applicable

Not applicable

110 USD

136 USD

159 USD

183 USD

Not applicable

226 USD

Norway

Not applicable

Not applicable

202 USD

234 USD

262 USD

287 USD

Not applicable

333 USD

Austria

Not applicable

Not applicable

173 USD

206 USD

234 USD

259 USD

Not applicable

306 USD
But remember, this list isn't set in stone – you've got more choices beyond these countries. For the full scoop, head over to the Eurail website where you'll find all the details on one country Eurail pass.
Eurail tickets – Global pass (Multiple countries)
Now, if you're all about hitting up a bunch of countries in a set timeframe, here's a general idea of what the Eurail pass could cost. Bear in mind that this is the cost for one adult.
| | | |
| --- | --- | --- |
| Traveling period | Eurail first class | Eurail second class |
| 4 days within 1 month | 371 USD | 299 USD |
| 5 days within 1 month | 425 USD | 334 USD |
| 7 days within 1 month | 504 USD | 398 USD |
| 10 days within 2 months | 603 USD | 476 USD |
| 15 days within 2 months | 742 USD | 585 USD |
| 15 days | 667 USD | 525 USD |
| 22 days | 780 USD | 615 USD |
| 1 month | 1009 USD | 796 USD |
| 2 months | 1102 USD | Not applicable |
| 3 months | 1358 USD | Not applicable |
Other things to take note of for Eurail tickets
Now, I can practically hear you going, "Whoa, that's quite the bill!" But here's a neat tidbit: these prices are the adult rates. Eurail considers adults to be folks aged 28 to 59. So, if you're a bit younger or a bit more seasoned you can snag a 25% discount as a youth (that's 12 to 27 years old) or a senior (60 years or wiser). And if you've got kiddos aged 4 to 11, their tickets are on the house.
Eurail 1st class vs 2nd class
Just like when you fly on airplanes, Eurail trains have something similar – they offer first class and second class. And nope, there aren't any more classes beyond these two.
And the difference is all about how comfy it is and what goodies you get. Picture this: more leg space in 1st class.
Now, here's the thing. Picking a 1st class Eurail Pass costs a bit more compared to the 2nd class one. But hold up, there's a cool bonus – those 1st class seats come with extra room and maybe even treats like food and drinks.
Here's a tip: If you're planning to catch some Z's during a long overnight journey or if you're going to be on the train for hours on end, you might want to think about going for 1st class. It's all about that extra comfort.
Now, what about those scenarios where you're only looking to travel during specific windows within a month or two? How exactly do you work out the calculations?
I bet you've got a bunch of folks scratching their heads when they lay eyes on these:
1 day within 1 month
2 days within 1 month
3 days within 1 month
4 days within 1 month
5 days within 1 month
6 days within 1 month
7 days within 1 month
10 days within 2 months
5 days within 2 months
How does this type of eurail tickets work? Let's take the "4 days within 1 month" ticket as an example. Within that one month, you get 4 days that are super special – you can go on train adventures wherever you want on these days.
Here's an example to help you understand better: Imagine you start using your ticket on August 1st. From that very day, you have a whole month, until August 31st, to use those 4 special days.
And a cool factor: You can choose how you use those days.
You could use them all in a row, like from August 10th to August 13th, for a big adventure.
Or you could spread them out, like using the ticket on August 1st, then again on August 5th, then August 15th, and the last one on August 30th.
Eurail reservations
So, you've got your tickets sorted, your travel plans all set – and now, the next thing on your mind might just be: "Okay, how to book seat reservations Eurail?"
I know, it might be on your mind – do you need to pay extra to book seats? Well, here's the scoop: Your Eurail Pass doesn't automatically come with seat reservations, but you can totally get one for a small fee. This nifty reservation makes sure you've got a cosy spot, especially on those busy routes all over Europe.
So, let's tackle the big question: Do you really have to book seats on Eurail? Well, here's the scoop – most of the time, you can totally skip the seat booking. You might need to take a bit of a detour sometimes by hopping on regional trains, but it's doable.
But here's the twist: For certain trains, like those speedy night trains or high-speed ones (think Caledonian Sleeper, Alfa Pendular, and TGV), you've got to reserve a seat. And those French trains? Quite a few of them need reservations in advance, and sometimes seats are in short supply.
So, here's the smart move: To play it safe, just check if your route needs reservations. You wouldn't want to end up off the train or standing during a long journey from Amsterdam to Berlin that takes over 6 hours. That's when a reserved seat comes to the rescue!
How to book a seat reservation on Eurail?
The simplest way is to visit the Eurail website and look up your route to find out if you need to reserve a seat. These reservations usually cost somewhere between €10 to €20.
When you want to reserve seats, you'll need two things: your Eurail Pass and an account on Eurail.com. We've got another cool option too – you can use our Rail Planner App to book seats on lots of trains.
Now, if you're headed to Italy, France, Austria, Switzerland, Germany, or the Benelux countries, your reservations will come as e-tickets. Just make sure to print these e-tickets and keep them with you when you're on the train. But, for other countries, your reservations will be sent to you as paper tickets, and they'll come to you by registered mail.
Still not sure how you want to plan your journey? Use Eurail Trip Planner.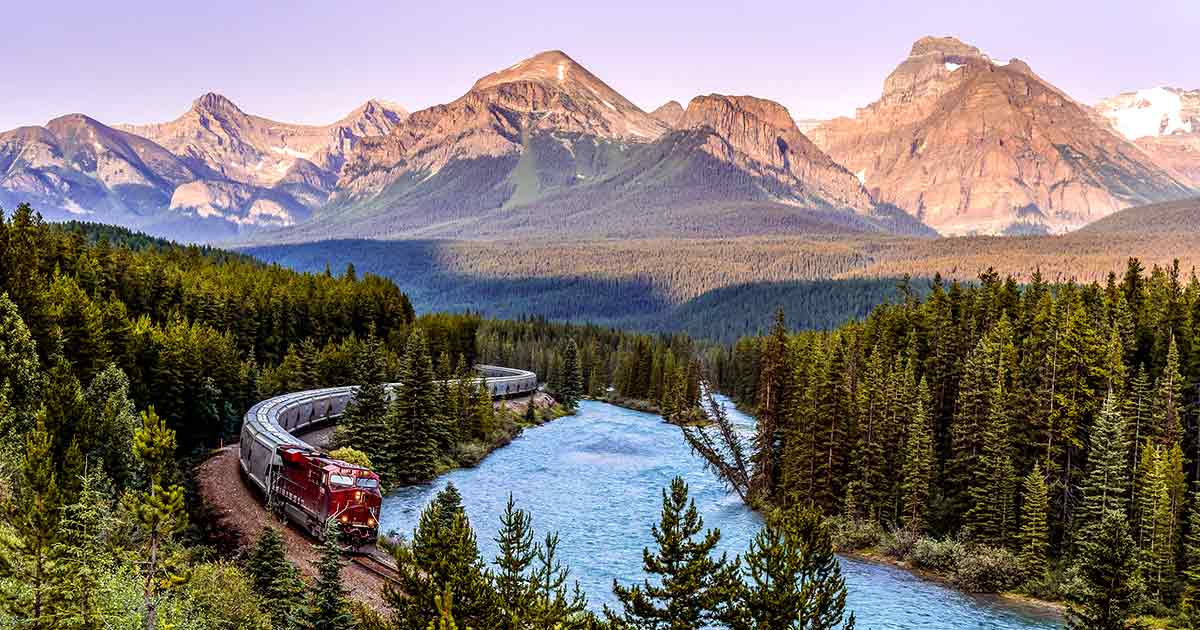 If you've made it this far, you've probably figured out that the coolest trick to pick your perfect Eurail pass is all about where you're itching to go. The more you plan your Eurail route, the smoother your ride will be.
Yes, you can start staring at the Eurail map.
Oh, and guess what? Instead of looking at the eurail map online and figuring out which eurail routes to take, you can simply download Eurail planner app. Okay, to be exact the actual name is the Rail Planner app!
Isn't this the same app that helps you to book seats? Absolutely, this Eurail trip planner app isn't just about booking seats – it's got a bunch more in store!
Imagine this: you can peek at train schedules even when you're offline, map out your trips in advance, and even snag some sweet discounts for awesome tourist spots, all right from the app. It's like having a super handy travel buddy in your pocket.
Is it worth it?
Deciding if a Eurail pass is a good idea depends on a few things: how much it costs, where you're going, how many trains you'll use, and how much flexibility you want.
Here's a nifty trick: If you're grabbing a Eurail pass, make the most of it by using it for the more expensive parts of your travels. Think of countries like France, Italy, Switzerland, Germany, Austria, and the Benelux region. That's where you'll really make the pass shine.
But hold on, that's not all. Eurail doesn't just get you around, it's also like a magic wand for your schedule. Imagine adding extra days in a place you're loving – that's the kind of magic these passes bring. Looking to hop between a bunch of countries? The multi-trip pass is your golden ticket for those longer adventures.
If you're still thinking about getting single tickets, go for it! But hey, here's a cool money-saving secret: if you wait until the last minute to buy those single tickets, they can cost a pretty penny. But guess what? If you've got a pass, you're in for a treat – you only need to think about seat reservations, and those usually go for about $5 to $20. It's like having a sneaky way to save some extra cash!
Before you go…
Planning a trip to Europe from Singapore? Say goodbye to long lines at the money changer! We've got a way cooler option for you – it's called the amaze card.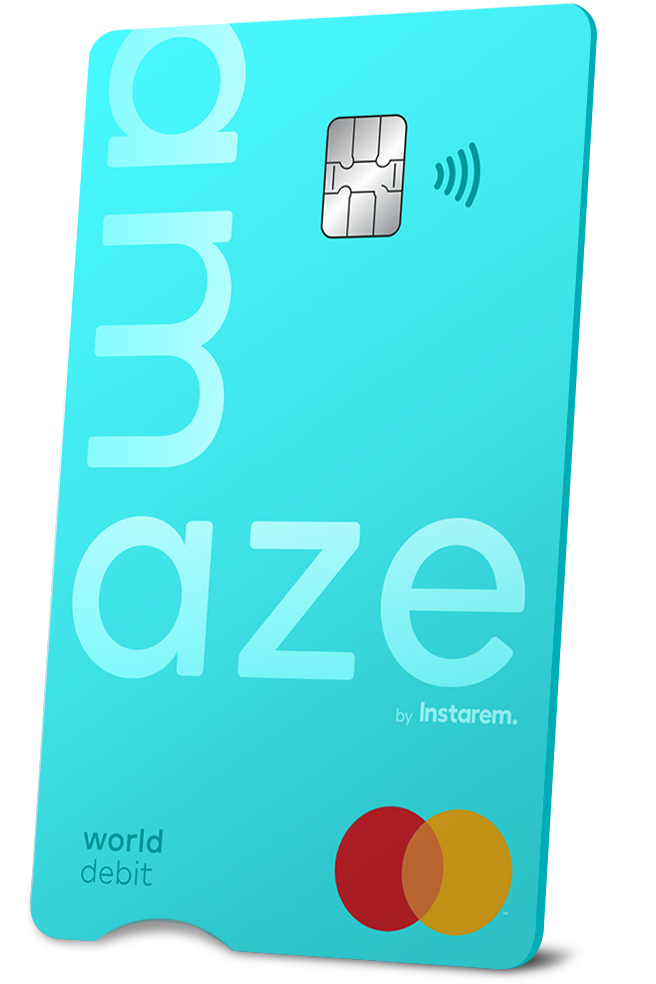 And through amaze*, pair up with any Mastercard bank cards or top up your amaze wallet and get:
Fantastic FX rates with every global purchase.
Earn InstaPoints on FX spends and redeem them as cashback or discounts on overseas money transfers.
Sign up now and get your virtual card promptly
Disclaimer: This article is intended for informational purposes only. All details are accurate at the time of publishing. Instarem has no affiliation or relationship with products or vendors mentioned.