10 most popular festivals celebrated in India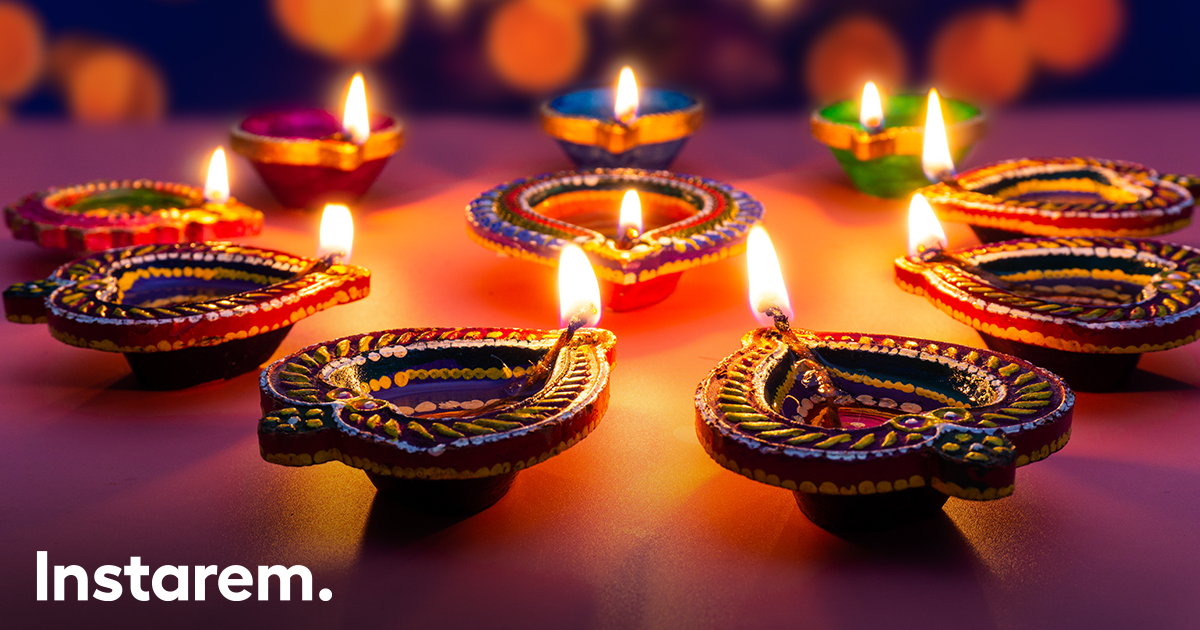 From the bright colours to the cheerful tunes of traditional music, India's festivals bring joy and excitement to its citizens. One of the most delightful aspects about these festive occasions is how many there are: with so many yearly festivals celebrated throughout the country, there is no shortage of cultural adventure when it comes to this vibrant part of the world!
From the biggest and most well-known Diwali to Holi and Pongal to even smaller regional ones – they all combine food, music, joy and celebration like no other. There is never a dull moment on any Indian festival day. Even if you're miles away from home, just take one look at your calendar and you'll be reminded of how close these festivals make us all feel!
Make sure your calendar is checked for these 10 popular festivals that ought not to be missed: Diwali, Holi, Pongal and many more! Whether it's with family or with friends, there's something special about spending time together during the festivals – join in the celebrations!
Pongal
Pongal is an important Indian festival celebrated in honor of the sun god, Surya. This four-day harvest festival marks the beginning of the northward journey of the sun and is usually celebrated around January every year. During Pongal, people thank Surya for a successful harvest and pray for an abundance of crops in the coming year.
On the first day called Bhogi Pongal, people decorate their houses with kolam designs using colourful rice flour and clean their homes to welcome prosperity. The second day, known as Pongai Pongal, is filled with fun activities such as painting skulls and bulls, drawing games and busying yourself with other forms of amusement.
On Mattu Pongal, cows are adorned with flowers, painted on their horns and decorated with creative paintings on their bodies before being taken out on grazing trips which symbolizes prosperity.
To conclude the Kanyi Pongal festival, women who are devoted to female deities prepare special dishes as a gesture of gratitude for their blessings. The celebration is then wrapped up with enjoyable games among family members.
Holi
Holi is an immensely joyous and colourful festival celebrated in India! It takes place at the end of March every year and lasts for two days.
On the first day, bonfires are lit, signifying the destruction of evil, and people gather to sing, dance and share laughter around the fire. The second day is dedicated to playfully smearing each other's faces with coloured powders or even throwing buckets of coloured water on each other – all while laughing and celebrating together.
Holi also has great importance in Hindu spiritual traditions, as it signifies a celebration of both love and overcoming hatred. The significance of Holi is to remember that no matter what life throws our way we should face it with a smile and come out stronger than ever before!
Mahashivratri
Celebrated annually on the fourteenth night of the new moon during the Hindu month of Phalguna, it marks the day when Lord Shiva performed 'Tandava', a cosmic dance to create, protect, and destroy the universe. Indians around the world come together with heightened enthusiasm and devotion to revere Lord Shiva by organising vigils and all-night-long prayer gatherings.
People attend special religious functions at local temples or community centres and observe fasts as a mark of their sincere reverence towards Lord Shiva, along with chanting and singing His praises. As per tradition, many devotees abstain from consuming any form of food or water throughout this day until sunrise in honour of Him and pay their respects with offerings such as Bael leaves, Milk and Honey for prosperity.
Every year Mahashivratri is celebrated on a grand scale to invoke divine blessings from Lord Shiva and embrace his power for health, peace, strength, wisdom and blissful life.
Eid-Ul-Fitr
Eid-Ul-Fitr, the traditional festival of rejoicing and celebration, lands on the 1st day of Shawwal, which is the 12th month of the Lunar calendar.
The festival marks the end of Ramadan, signifying a successful month-long observance of fasting. People celebrate this event by cooking delicious feasts, exchanging gifts with family and friends, visiting relatives' homes to greet them and attending late-morning prayers in mosques.
During this joyous occasion, children become especially excited as they receive new clothes and plenty of sweets from their loved ones.
The significance of Eid-Ul-Fitr is more than just a day for merriment; it celebrates renewed faith through spirituality, togetherness among individuals from different social backgrounds and respect for everyone.
Raksha Bandhan
Raksha Bandhan is a special annual festival celebrated in India which has its traditions steeped in Hindu religion. It falls on the full moon day of the Hindu month of Shravana, usually in August and marks a day of joy for brothers and sisters everywhere.
On Raksha Bandhan, sisters tie rakhi or colourful threads around the wrist of their brothers. The thread is a symbol of protection but more so than that it is a representation of the sibling bond between brothers and sisters, reminding us that although life may take us on different paths in the end our mission remains to protect one another.
Through customs such as gifting sweets to each other, dinner parties and exchanging gifts, both siblings can show their appreciation for one another during this important festival. The significance of Raksha Bandhan is twofold: reminding us to be loyal to our pledges and being thankful for those closest to us who look out for us no matter what.
Ganesh Chaturthi
Ganesh Chaturthi is an exciting Indian festival that celebrates the birth of Lord Ganesh, the beloved god known for his large elephant head. This festival is celebrated annually from August or September (depending on the Hindu calendar) and lasts for 10 days.
During these celebrations, people bring home statues of Lord Ganesh and give them a special blessing called Pranapratishta. Every day, people organize poojas (prayer rituals) to honour Ganesha and offer him different types of food. Towards the end of the festival, people come together in groups to immerse the idols of Ganesh into bodies of water amidst showers of flower petals, chants, and music.
This meaningful festival holds great significance as its main purpose is to remind us to connect with our innermost selves like Lord Ganesh by overcoming obstacles and gaining divine wisdom.
Navratri
The nine-day festival, which usually takes place towards the end of September or the beginning of October, celebrates good over evil and is marked with ceremonies in many Hindu homes.
On each day of Navratri, a different goddess of the Hindu pantheon is revered and worshipped. During these auspicious days, people gather to perform the traditional dance (Garba and Dandiya Raas) and classical music concerts, while partaking in festive feasts with family and friends. No wonder it's such an exciting time! Many choose to observe fast for all nine days to avoid all food items made from grains such as wheat, rice, pulses and cereals.
This is done in order to demonstrate purity from within one's body as well as from what one eats. Above all else, Navratri is a celebration of togetherness – a chance for Hindus to rejoice in the divine power of womanhood while offering thanks for health, wealth and prosperity. Without a doubt, it's a truly remarkable event!
Onam
Onam is a 10-day Indian festival celebrated mainly in the state of Kerala. It usually falls during the month of August-September.
The celebration begins early in the morning when people create artful flower designs known as pookalam at their entrances as a sign of respect to King Mahabali, whose spirit is said to visit during Onam. People gather together to sing traditional songs and even engage in boat races. Games unique to this festival are also played such as Kuttiyum Kolum and Talappanthukkal. It's the perfect time for families and friends to get together and enjoy shared meals before bidding farewell to King Mahabali!
Significance of Onamlies in its symbolism – it is thought that beautiful pookalams bring luck and prosperity into each house. Enjoy your celebrations on August 31st!
Dussehra
This joyous festival is celebrated in India yearly on the tenth day of Ashvin Month, usually, in September or October, people from all over India come together to take part in this vibrant celebration. During Dussehra, people attend Hindu temples and share food with their loved ones.
People also perform theatrical plays based on the Ramayana, which illustrate Rama's victory over Ravana and celebrate justice over evil. There are typically plenty of fun activities to partake in during Dussehra, like festive bonfires and fiery effigies of Ravana made by local artisans. Of course, no celebration is complete without sweet treats – mithai – which is enjoyed by both young and old alike!
Symbolically speaking, Dussehra marks the start of the Diwali season and its importance reminds us all that goodness will always triumph over evil.
Diwali
Diwali is an Indian festival celebrated in early November and is heralded as the "Festival of Lights" – which speaks to its vibrant display of fireworks, lights, and jubilant activities.
During Diwali, people create magnificent designs of diyas (lamps) on all entranceways of their homes as a way to encourage deities to bless the home with success and luck. Popular activities include special prayers, feasting, exchanging gifts between family members, crackers and displays of firework explosions! People often dress in their traditional best for the occasion and spend quality time with loved ones.
Diwali holds deep spiritual significance and spiritually signifies the divine victory over evil. Indeed, Diwali is a truly remarkable time that celebrates life, triumphs of good over evil, illuminated pathways for future prosperity, and reunion among loved ones.
Before you go…
With the festivals in India just around the corner, are you stuck abroad and not able to come back home?
Don't worry, Instarem has got you covered! Instarem enables you to instantly send money to India at competitive exchange rates. Whether you're out of state or out of the country, you can quickly and securely transfer funds to your family and friends at any time.
Your loved ones will appreciate your thoughtful gesture as they celebrate these special occasions together.
Try Instarem for your next transfer by downloading the app or sign up here to send in your warm wishes for a happy festive season!
*Disclaimer: This article is intended for informational purposes only. All details are accurate at the time of publishing. Instarem has no affiliation or relationship with products