Best places to see cherry blossoms (Sakura) in the world
If you're looking to be in complete awe of mother nature, there's nothing more captivating than viewing cherry blossoms. Also known as sakura, these fluffy pink and white flowers blanket parks, riversides and other areas for just several weeks at a time – so if you want to have the ultimate cherry blossom experience, you better plan your vacation accordingly!
Take your Instagram game up a notch by visiting one of the world's most stunning cherry blossom viewing spots. From Japan to South Korea and everywhere in between, get ready for a sight sure to make even the grumpiest Grinch smile!
Japan
Get the insider scoop on when and where these glorious cherry blossoms will be in full bloom and tips from locals who know how to appreciate them.
Haven't got time for guesswork this hanami season? Don't worry – let Japan Meteorological Corporation (JMC) do all the hard work with their 2023 forecast.
Japan Cherry Blossom 2023 Forecast
And if deciding what location has total aesthetic points boggles you out – we've already picked some prime spots just for ya'.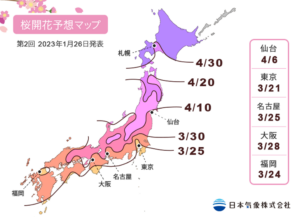 Shinjuku Gyoen National Garden – Tokyo
Step into a vibrant wonderland of beautiful blossom and fragrant foliage! Home to over 1,000 cherry trees that bloom at different times creating an incredible spectrum hue – it's like you're in your own Tim Burton movie.
Want to get there? It'll only take 10 minutes from the Sendagaya station ( (千駄ケ谷駅, Sendagaya-eki) which is conveniently close. And although this garden boasts one of Japan's best spots for viewing Sakura with countless visitors itching to have a look-see too, don't worry about being squished amongst the throng as there are great pathways for strolling along undisturbed (hooray!).
Entry price: 500 yen (~3.78USD)
Opening hours: 9 am – 4 pm
Best time to go: Late March to early April
Philosopher's Path – Kyoto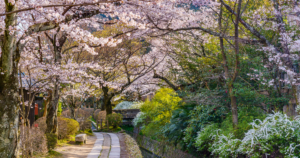 Take a stroll down the 'Philosopher's Path' – two kilometres of stone-paved paradise! You will be walking under hundreds of cherry blossom trees that make an amazing pink canopy.
As you wander, explore the local shops and temples found along this beloved Kyoto route – made famous by Kitaro Nishida, a philosopher professor at Kyoto University who meditated on his daily walk here.
It's easy to access from the Kinrin Shako Mae bus stop too; in about 5 minutes you'll arrive in heavenly bliss for a romantic 30-minute journey suitable for kids and grandmas alike!
Best time to go: Early April
Lake Kawaguchiko – Kawaguchiko
Get ready for a Kodak moment! Enjoy magical pink petal sprinkles from the gorgeous cherry blossoms, with Mount Fuji providing an awe-inspiring backdrop. It's the perfect postcard – beauty in one spot that your jaw will hit the floor!
Best time to go: Early to mid-April
Mount Yoshinoyama – Yoshino
Take on an epic adventure in one of Japan's most renowned cherry blossom hotspots, Mount Yoshinoyama! Feast your eyes and taste buds with everything Sakura- from delicate petal shapes to mouth-watering Sakura mochi.
Take a stroll through Naka Senbon Park for dreamy surroundings or visit Kinpusenji Temple (金峯山寺) and Yoshimizu Shrine (吉水神社, Yoshimizu-jinja) if you're looking for something more spiritual. Then hop onto an inexpensive bus ride (just 450 yen!) that'll take you straight back into the heart of this magical place!
With all these blossoms around, don't be surprised if good ol' Mother Nature turns YOU into a beautiful blooming flower by the end!
Best time to go: Early to mid-April
South Korea
Looking to be in the land of your 'oppa' and 'unnie's while being surrounded by cherry blossoms? South Korea has got your back. Feel rest assured that the awe that you will get from viewing Korea's cherry blossoms is no less than that of Japan! Interestingly, the Koreans have a different take on the symbolism of cherry blossoms, purity and beauty. Also known as 'beot-kkot' (벗꽃) in Korea, cherry blossoms are one of the most loved flowers in the country that once spring comes, cherry blossom festivals would light up the whole nation.
Seokchonhosu Lake – Seoul
Ready to experience blossoms that never say goodbye? Look no further than the Seokchonhosu Lake Cherry Blossom Festival! Enjoy a magical view of 1,000 cherry blossom trees with just a five-minute stroll from Jamsil Station.
If you need an extra dose of amazement, head afterwards to Lotte World Magic Island and Tower for some shopping – why not complete your spring getaway in style?!
The best part is: it's free admission AND open all day long! Go ahead and beat those afternoon crowds by getting there early or late at night…or both if you're feeling particularly adventurous.
Best time to go: Early April
Yeouido Park – Seoul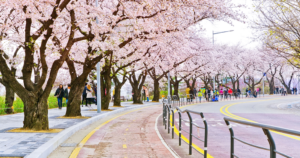 If you're looking for a vacation spot that'll make your Instagram followers go wild, then set sail to Han River Park! Let the lush 1,600 Yoshino cherry blossom trees from Jeju Island transport you into a world of relaxation and healing.
Along with some breathtaking views as well as snacks like street food stalls surrounded by ever-present performers–you haven't seen it all until YOU'VE experienced this pink paradise! And the best part? Getting there is easy – just hop on Subway Metro Line 9 and let the adventure begin!
Best time to go: Early April
Taiwan
Get ready for some blossomy bliss on your budget! If you're looking to take in the beauty of cherry trees blooming without breaking the bank, Taiwan is where it's at.
It may not be as well-known a destination as Japan or Korea – but the gorgeous fully bloomed flowers make up for that tenfold and let you still live out all those Instagram fantasies while saving money on flights 'n lodgings too.
Yangmingshan National Park – Taipei
Come marvel at the spectacular view of cherry blossom trees in full bloom at Yangmingshan National Park! Here, you can enjoy a host of mother nature's finest works like Taiwan's tallest dormant volcano and shimmering sulfur crystals.
Plus, getting there is oh-so-easy – just hop on city bus R5 or small bus S15/S17 to Yamingshan Station for an unforgettable experience!
Best time to go: February to March
Formosa Aboriginal Culture Village – Nantou
If you're in need of an exciting getaway and some culture-filled fun, the Formosan Aboriginal Cultural Village is a cherry blossom paradise unlike any other! With over 3,000 stunning blooms spread throughout this amusement park oasis – certified officially by Japan itself – it's definitely worth taking a ride on the rollercoaster or cable car overlooking Sun Moon Lake.
Plus, at TWD900 (~USD 30) per adult ticket (open from 9:30 am to 5 pm), it could be your best value destination yet! And don't forget that transfer from Taichung Station to take full advantage of Route 6670 for getting there. Pink flowers await… let's go make those ever-precious vacation memories together!
Best time to go: February to Mid-March
United States of America
Who would have thought it– the United States of America, right up there alongside Japan, South Korea and Taiwan on this list of places to best experience cherry blossom blooms! While we often associate Japan and its iconic spring blossom celebration with the season, surprisingly the United States also takes part in this annual event.
In fact, attending one of the festivals or events across different states in the country will make you feel as if you're really in Japan! From parades to boat rides, everyone joins in on the celebrations, eating tasty treats and dancing in merriment altogether. So don't forget about including the US into your list for experiencing some good old-fashioned cherry blossom fun.
Washington DC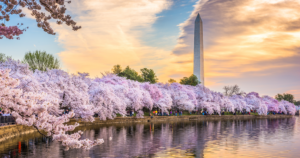 Travel back to 1912 and relive history at the Tidal Basin – a place that holds incredible significance in US-Japan relations. It all began with two cherry trees, gifted by Japan as a symbol of friendship between our countries – fast forward to today where there are almost 4,000 blossoms blooming!
But it's not just about sightseeing; make sure you check out their amazing National Cherry Blossom Festival for events like the Kite Flying Fete or Thomas Jefferson Memorial's Pink Tie Party -all set against beautiful Instagram-worthy backgrounds. So don't forget your camera (and maybe some snacks too) when you go down memory lane here!
Best time to go: Late March to Mid-April
Before you go…
Sakura season may come and go but Instarem proves that some things are here to stay!
Whether you're an expat or Singaporean who is travelling overseas, Instarem can help you save time and money.
With competitive exchange rates and no hidden fees, it will feel like all your financial worries have gone flying away with the cherry blossom petals.
Try Instarem for your next transfer by downloading the app or sign up here.
And through amaze*, pair up with any Mastercard bank cards or top up your amaze wallet and get:
Fantastic FX rates with every global purchase.
Earn InstaPoints on FX spends and redeem them as cashback or discounts on overseas money transfers.
Sign up now and get your virtual card promptly
Disclaimer: This article is intended for informational purposes only. All details are accurate at the time of publishing. Instarem has no affiliation or relationship with products or vendors mentioned.