Top 5 things to do in Genting Highlands
Don't you wish that on some days you could escape to the mountains and relax?
Well, the idea might sound great, but we're not so sure how well you would fare in the wild.
But there is one mountain you can definitely survive – Genting Highlands. It's like mountain life on steroids – plenty of theme parks, shopping, and more.
Here are the top five things you should do in Genting highlands in Malaysia.
Genting Skyworld
Weather is definitely a deal-breaker at any theme park – whether it's too hot, too sweaty, or too cold, in which case you'll be freezing mid-air on the roller coaster ride.
That's why Genting Skyworld is the perfect outdoor theme park to explore. The average temperature in Genting Highlands is about 21°C – you can have fun all day in air-conditioned weather.
There are a total of nine sections in the park – Epic, Ice age, Robots Rivet Town, Rio, Andromeda Base, Liberty Lane, Eagle Mountain, Central Park and Studio Plaza.

*Take note that not all attractions are fully open. Attractions like Planets of the Apes, Map Ramp Peak, Ice age are listed as coming soon.
As you can tell, you don't have to worry about getting hungry in the park, and if you want more food choices, you should head to Central Park.
For more convenience, download the Genting Skyworld app (iOS and android) to skip the snaking line and make your reservations ahead of time with Virtual Queue. What's even more convenient is that you can use the app to plan your rides.
The price for a 1-day ticket costs about RM151. And if you are planning to bring your children, or any adults over 60 years old or with disabilities, it will cost RM128 per person.
You Might Also Like To Read: How to travel to JB from Singapore – The best ways possible
Skytropolis Theme Park
One thing about an outdoor theme park is that rain can be a total bummer.
The good news is that you can stop sulking and run to First World Plaza for its indoor theme park – Skytropolis.
This fun arena has more than 20 new rides that are split into three different categories – adventure, family, and thrill. With that many varieties, there will surely be some that can fit your daredevil appetite.
Prices for rides range from RM10 to RM90.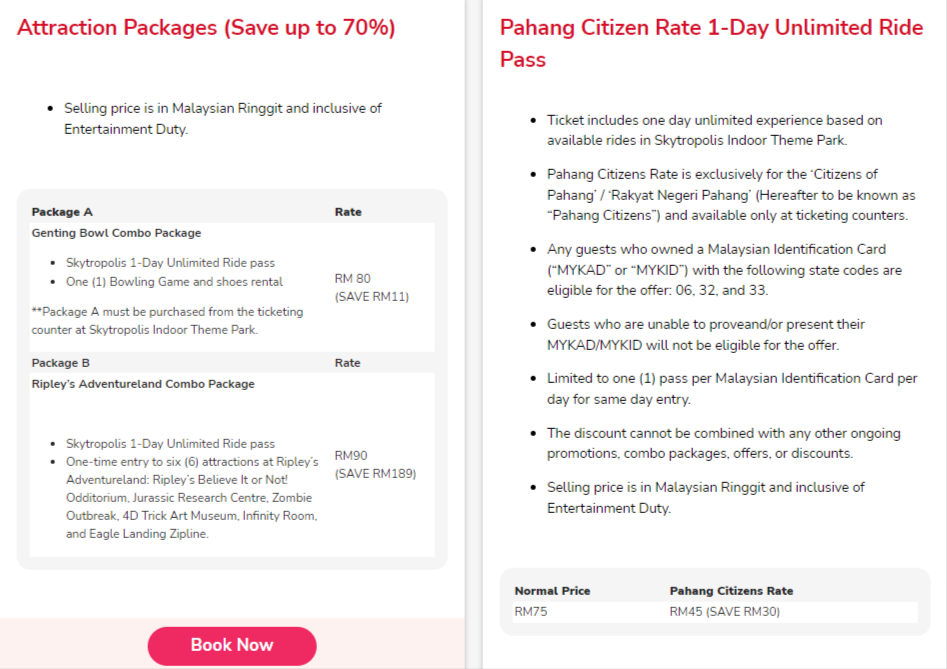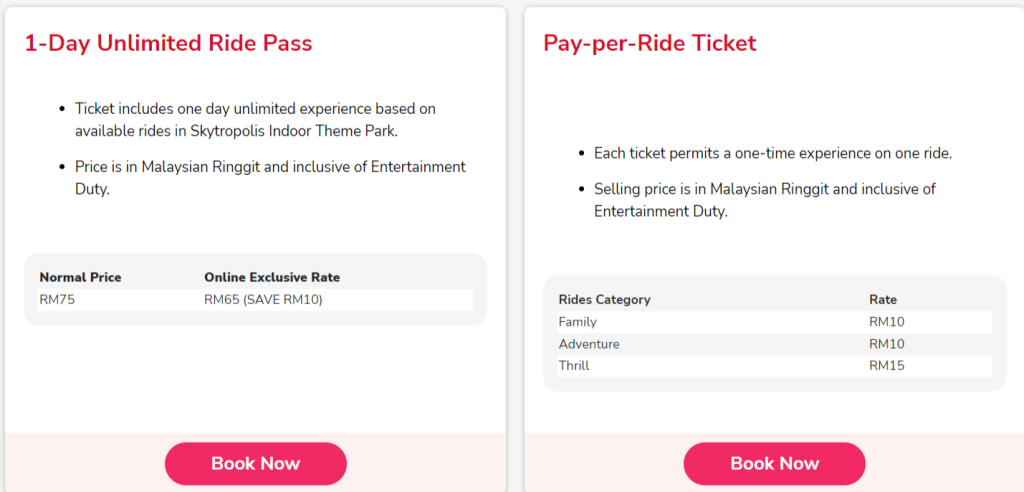 Take note that the Skytropolis theme park is open from 2 pm to 9 pm. So, you might not want to have that heavy lunch before your adventure starts.
Feeling sick after your first theme park ride is not fun.
Awana Skyway
This cable car experience isn't about enjoying heights.
It's also one of the key transport to get to places like Chin Swee Cave temples and the Premium Outlet Mall.

There are a total of three stations that you will get to, for this cable car experience. It only takes a total of 10 minutes from mid-mountain (Awana station) to the Peak (SkyAvenue).
This ticket allows you to disembark at Chin Swee Station. And with the same ticket, you can continue your trip back to Awana Station or SkyAvenue.
PS: For those who enjoy heights and want a 360 experience of flying in the sky, pick the glass-floor gondola.
It's double the price of the standard gondola, but hey, it's an exclusive experience – 10 out of 100 gondolas are glass-floored.
Premium Outlet
Did someone say shopping?
Get your wallet ready, as it's time for some big discounts.
With more than 150 designer brands and stores and savings of up to 65% daily, you don't have to wait for a deal to shop.
The best part – the outlets are open from 10 am to 10 pm so you can shop from sunrise to sunset.
Head over to take the Skyway from Sky Avenue at Resorts World Genting and you will get to the Premium Outlets in 10 minutes.
You Might Also Like To Read: Travel to Malaysia: 3 Malaysia states to visit without flying
Chin Swee Cave Temple
Looking to hit the pause button for a bit to chill?
If you are looking to enjoy a scenic, quiet view, you might want to hop off your gondola and take a peep into this temple.
Opened on 29 March 1994, this temple was brought to life by Genting's founder, Tan Sri Lim Goh Tong.
The facilities that are currently open are:
1. Goh Tong Hall Residence*
2. Chin Swee Deity Hall (7.30am – 6pm daily)
Take note that Chin Swee Station will be operating from 10am – 6pm. So plan your trip wisely!
Casino
For the record, we don't encourage gambling. But if you are looking to explore the facilities, there are a total of four casinos you might want to look into.

To play at the casino, you must get your Genting Rewards card before and load your cash amount.
Don't forget to take your amaze card along
Planning to travel to Malaysia? Make sure you make your payments with amaze.
Pair up with any Mastercard bank cards or top up your amaze wallet and you get to:
Fantastic FX rates with every global purchase.
Earn InstaPoints on FX spends and redeem them as cashback or discounts on overseas money transfers.
Sign up via the Instarem app and get your virtual card instantly! It's totally free.
*TnCs apply
Disclaimer: This article is intended for informational purposes only. All details are obtained from Genting website and are accurate at the time of publishing. Instarem has no affiliation or relationship with the products or vendors mentioned.